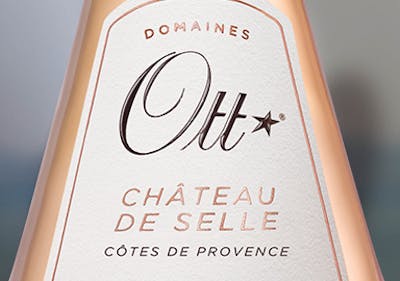 SKU: 01574
Domaines Ott Château de Selle Rosé 2022
---
---
This is the most famous producer of Dry Rosé in the world, located in southern France in Provence. Full of finesse and richness, with focused berry, orange peel and spice complexities, Domaine Ott is the quintessential example of Dry Rosé from Provence. Marcel Ott, an agricultural engineer with a pioneer spirit, set out to create a wine estate in 1896 and this is considered by many to be the best Dry Rosé in the world. Made from handpicked Cabernet, Grenache and Cinsault grapes, the wine is ultimately aged in oak for 8 months giving it more body and dry extract.
Chateau de Selle was acquired in 1912. It is situated on the plateaux of the Var, not far from Le Luc, in the heart of Côtes de Provence country encompassing 110 hectares, including 48 devoted to wine production. The Château was the former dwelling of the Counts of Provence and is a superb 18th-c. country house. The surrounding estate was entirely carved into the rocky land by Marcel Ott, his children and grandchildren.
The 2022 Rose Chateau se Selle Cru Classe opens with a striking bouquet, blending dusty dried flowers with ginger, a spritz of lemon and crushed apples. it's supple and soothing to the senses, with a textural wave of white strawberry, candied orange and sweet inner florals. A core of brilliant acidity maintains a fantastic balance as this tapers off long and potent. A mineral staining and citrus hints tease the taste buds. Please pour me another.
Smoothly textured, this wine with its classic dominance of Grenache and Cinsault is rich. It has a lively backdrop to the ripe red berry fruits that are freshened with orange zest. Drink the wine now. Organic. -
wa

91

Wine Advocate

ws

91

Wine Spectator

st

91

International Wine Cellar