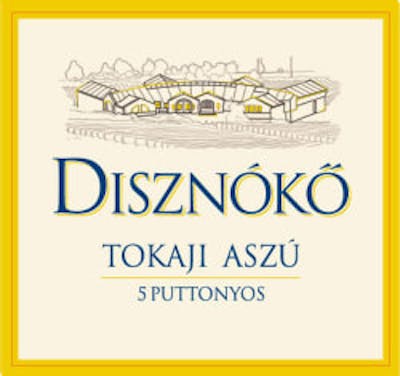 SKU: 13781
Disznókő Tokaji Aszú 5 Puttonyos 2013
---
---
Hungary has one of the world's oldest winemaking histories, dating back over 400 years. Renowned for 'king-worthy' dessert wines, Hungary's traditions are long and rich. The Disznoko estate was classified at the top level of Hungary's vineyard demarcation in 1772, making it one of the first classified estates in all of Europe. Disznoko is regarded as making some of the very finest sweet wines - Tokaji - in the world, and have invigorated the reputation of Hungary's sweet wines as 'the wine of kings and king of wines' as Louis XIV boasted. The estate is currently owned by AXA Millesimes, who also own the illustrious Château Pichon-Baron in Pauillac and Château Petit-Village in Pomerol. They not only wish to continue the old traditions of the estate, they are also encouraging new ones. Disznoko makes a wonderful dry white with crisp, refreshing citrus flavors. Discover something new yet old with wines of Hungary...

Tokaj wines are brought to market only after maturation in cask and additional storage time in bottle. So once a bottle is bought, it is generally ready to be consumed. Having said this, all good Tokaji can still be stored for many years; the higher qualities can be cellared for decades, and true essencia will last for two centuries or more: the greatest Tokaji wines are almost immortal. Tokaji is one of the longest-lived unfortified wines in existence in large part to its firm acidity. For this reason 19th century and even 18th century bottles are keenly sought after by collectors and fetch enormous prices.

Pairing Tokaji with food is a wonderful experience in Old World Royal elegance. The most classic pairing of all with Tokaji Aszu is Foie Gras. While many associate this delicacy with France, Hungary is the world's leading producer, and Tokaji is a perfect pairing. A Tokaji Aszú is also a wonderful companion to desserts or cheeses after dinner. As a general rule for pairing wine with dessert. serve a wine that is sweeter than the dessert itself. An elegant, not-too-sweet apricot or peach tart, or creme brulee made with Grand Marnier would be a perfect match. As with Sauternes, Tokaji wines also compliment blue cheeses, especially French sheep's milk Roquefort and/or fine chocolates.



Round and creamy, with hints of praline and vanilla-infused pastry cream enriching the poached apricot, glazed clementine and candied ginger flavors. Features a citrus peel acidity that keeps this well-balanced and refreshed on the spiced finish. Drink now through 2028. 6,000 cases made, 500 cases imported.
Tasted at the Disznóko vertical in London, the 2013 Tokaji Aszu 5 Puttonyos is an (Aszú) blend of 75% Furmint, 15% Zéta and 10% Hárslevelu that was picked between September 23 and November 11 over four passages through the vineyard. It has an elegant, laid-back, almost Sauternes-like bouquet, nicely defined if not quite as complex as other vintages. The palate is crisp and fresh, a dash of stem of ginger on the entry, creamy in texture with the Azsu character more dominant here than on the nose. There is a lovely touch of mandarin and orange rind that comes through with aeration and enhances this young Tokaji that is full of potential. It just needs a little more persistence, but the focus and intensity are superb. Tasted September 2016.
The 2013 Tokaji Aszu 5 Puttonyos has a gorgeous bouquet of dried honey, quince and gingerbread scents, all beautifully defined. The palate is very well balanced with a viscous opening, although there is very little heaviness here. and the discreet bitter edge on the finish counterbalances the residual sugar. Hints of caramel linger on the aftertaste. Lovely.
wa

91

Wine Advocate

ws

91

Wine Spectator

st

91

International Wine Cellar