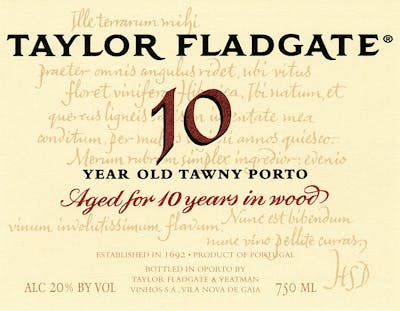 SKU: 14388
Taylor Fladgate Tawny Port 10 year old
---
---
Taylor Fladgate 10 Year Tawny is a perennial favorite under 'Most Popular Dessert Wines' in the country in Wine & Spirits magazine, and continues to be one of the most sought-after Port houses in the world. A superb example of aged tawny Porto, the Taylor is made from selected grapes from the best vineyards of the Cima Corgo and Douro Superior including Touriga Nacional, Touriga Franca, Tinta Barroca, Tinta Roriz, Tinto Cão and Tinta Amarela.
This sweet, fortified wine is aged in 600-liter oak casks for years, over which time they will lose their young, dark purple-black color to gain the distinctive 'tawny' hue from which the wine takes its name. As tawnies age, the wines take on increasingly more nutty flavors and become more concentrated as the barrels lose 3% of their volume every year (the "Angels' Share") to evaporation. The 10 Year Old Tawny is a blend created using tawnies with an average of 10 years of aging.
In an interesting article we found online, 'Why your Party Punch Needs Port', we love the idea of a 'Bloody Murder Punch', melding Fonseca BIN 27 Port with Tequila, Rum, oleo-saccharum, lemon juice, orange juice and lime. Another cool drink served at the posh Two E Bar/Lounge at the Pierre Hotel in New York, is the 'American Whiskey Punch', in which Taylor Fladgate 10-year-old tawny port brightens a mix of rye, pomegranate juice, Yukon Jack liqueur and egg white. Tawny or Ruby Ports can also be used instead of sweet vermouth (or in addition to it -half Port, half vermouth) in a whiskey cocktail such as the Japanese Fizz – a whiskey sour made with Rye and Taylor Fladgate 10 Year Old Tawny Port.
Juicy and focused, offering dried cherry, fig and bergamot notes inlaid with red licorice and fruitcake flavors that marry the flattering and racy sides.
The NV 10 Year Old Tawny Port was bottled in 2014 with 105.23 grams per liter of residual sugar. Easily the 10 with the most weight in the Fladgate group's lineup this issue, it is a rather powerful 10 year old Tawny with plenty of pop, the biggest and baddest of the trio (Fonseca, Croft and this). There is very fine concentration of flavor for a 10 year old Tawny. If I had a quibble, the alcohol shows at times, especially early on and rather notably when drunk a little too warm. (Around 60 degrees Fahrenheit is a lot better than room temperature most of the time, to be sure, not just here.) Overall, the weight, complexity, mouth feel and grip on the finish still make this my favorite of the group of 10s submitted by Taylor Fladgate this issue, although it's close and there are some pros and cons. This comes with a bar top cork, i.e., not intended to be aged (although it most certainly can hold a couple of decades barring cork failures).
This ivery complete aged tawny has all the right nuts and fruit characters that show a Port that still looks back to its fruity origins. The style is ripe, full and sweet, a mellow wine that only hints at the spirit behind it.
The 10-Year Old Tawny from Taylor Fladgate, bottled in 2017, has a light earthy bouquet with hints of smoke, cedar and clove, missing a little depth of fruit compared to the 20-Year Old. The palate is a little sharp on the entry, with touches of strawberry mixed with marmalade, clove, allspice and marjoram. Gentle and nicely focused on the finish. Tasted at the Big Fortified Tasting in London.
wa

91

Wine Advocate

ws

91

Wine Spectator

st

91

International Wine Cellar