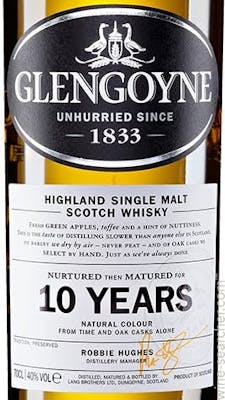 SKU: 12040
Glengoyne Single Malt Scotch 10 year old
---
---
Glengoyne Scotch Whisky has been hand crafted for 200 years with an unwavering commitment to quality. The distillery always dries their barley by air. The founders established this tradition through necessity: there is no peat in the soil around Dumgoyne. This means there is no smokiness in Glengoyne whisky – and nowhere for coarse flavors or average casks to hide. That is why they take such care to craft their spirit, coaxing it through the slowest stills in Scotland – then maturing in fine sherry casks. They stay true to the taste of Glengoyne – creating bold fruits and rich sweetness. The 10 Year is smooth, fruity and incredibly delectable. Fresh green apples, toffee and a hint of nuttiness pervade the nose and palate. The taste of Glengoyne is the taste of distilling slower than anyone else in Scotland: the taste of barley dried by air – never peat – and of hand-selected sherry casks crafted from European and American oak.
A note on the color of whisky : there are two ways to give whisky a rich, appealing color. One is absurdly time-consuming and expensive. The other is easy: add a few drops of caramel at bottling.
At Glengoyne they choose the harder path:
They start by selecting their own oak from the forests of northern Spain. Then it is dried naturally by sun and air for three years. When it's ready, each hand-built cask is filled with sherry in Jerez, and left to absorb its rich color and flavors for up to three years. Only then are the casks ready to be emptied and delivered to Glengoyne's Highland distillery – some six years after they started their journey. These casks are then filled and over the next 10, 15, 18 years, the clear spirit takes on the rich gold, amber and copper tones naturally from the wood.
wa

91

Wine Advocate

ws

91

Wine Spectator

st

91

International Wine Cellar