Taylor Fladgate Tawny Port 20 year old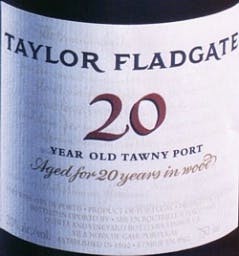 Wine EnthusiastA complex, wood aged wine, this 20-year-old has a perfumed, dry style. Walnut and spice flavors blend together with the spirit and mature acidity. It's rich, with just the right amount of age.
Wine SpectatorRich, with a spicy nose, this offers flavors of fig, dried apricot, mango and ginger. Complex and elegant, delivering concentrated crème brûlée and tropical fruit notes that linger on the vibrant and buttery finish.
Wine AdvocateIt is my opinion that Taylor's tawny ports are the best of their type. When tasted against other tawnys, they all exhibit more aromatic personalities, greater fruit and ripeness, and a wonderful sweetness and length. Although I find the Thirty Year Old Tawny admirable, I prefer the richer, more vibrant Twenty Year Old Tawny.