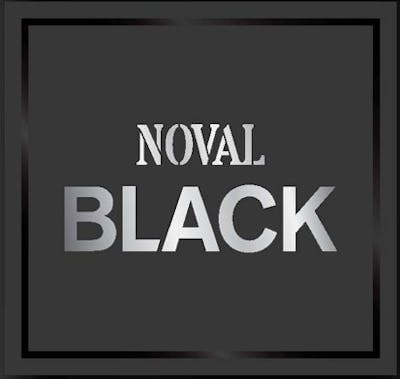 SKU: 12722
Quinta do Noval Black
---
---
Great port and cold winter evenings are one of life's best simple pleasures. Made by the legendary Quinta do Noval which is today owned by AXA Millésimes, Noval 'Black' is a new pedigree of Vintage Character port made by a house producing Port since 1715. Made from multiple vintages, 'Black' is made of 100% estate fruit. Most other Vintage Character ports are made in much larger quantities and from mostly purchased fruit or purchased wine, and then blended. This has the distinctive taste of a 'Noval' Port with all of its richness, supple red & black fruits, mocha & spice flavors, and, above all, balance. Extremely seductive with its sweet and spicy style, this Port will make an outstanding companion to fine dark chocolate, or with a cheese plate of Stilton, Vintage Irish Cheddar, Black Cherry with Licorice Fruit Spread and roasted nuts.

'Quinta do Noval is unusual among the great traditional Port houses in that it emphasizes the importance of the vineyard. It is significant that the company is named after its vineyard, that it is entirely based on the Douro Valley, and that its principal Vintage Ports, Quinta do Noval Nacional and Quinta do Noval, are both single-vineyard wines. The aim is to produce classic Vintage Ports that are harmonious and elegant expressions of Quinta do Noval's terroir. Strict selection in the vineyard, low yields, and strict selection again in the tasting room result in a small production.' vintuswines.com
At the level of many of the region's best LBVs, this wine may become a staple for a new generation of Port drinkers.
The NV Black Ruby Reserve Porto is mostly Tinta Roriz, Touriga Franca and Tinto Cão aged in an equal mixture of oak and stainless steel. It comes in with 100 grams of residual sugar per liter. This has many fine attributes, but the most important is that it seems very much like Noval. Laced with an invigorating eucalyptus/cistus aromatic, it is always elegant in the mid-palate yet somehow still solid, something I find Noval does very well. It was one of the relatively few in this report that actually seemed better two days later (and most of the others were unfiltered). There is plenty of finesse and lift to the fruit. It is pointed, ripe and chock full of flavor while still showing off some power and structure. This was, in fact, a bit tight on opening. One of the more distinctive Reserves (in part, thanks to the aromatics), this is very well done at a good price point. It became one of my favorites. It is lovely and exceeds expectations, so I'm leaning up on this a bit. It should still be drunk young, as it won't reward aging.
Shows beautiful aromas of sliced plum and peach, with raspberry jam. Medium-bodied and lightly sweet, with fine tannins and a fruity finish. Refined and pretty. This is a new Port from Noval that is supposed to attract new consumers and please old ones. Might work. Drink now.
A reserve style of Port, with a fine perfumed character, with damson skins and stalky black berries. The style is soft, not noticeably sweet, with a definite dry center. It suffers from a bitter sweetness.
wa

91

Wine Advocate

ws

91

Wine Spectator

st

91

International Wine Cellar