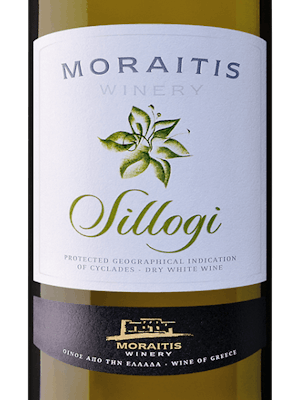 SKU: 12070
Moraitis Sillogi White 2021
---
---
Sillogi is the quintessential Summer white from the Greek island of Paros. The fine quality Moraitis estate is owned by Manolis Moraitis whose grandfather founded the winery in 1910. Today Moraitis is the only privately owned wine estate on the island, and Manolis is working with his son Theo; soon he will also work with his son Savvas after his military duties are complete. Sillogi white, from the region of Cyclades on Paros Island, is made of Malagouzia and Assyrtiko grapes. Super fresh, dry, zesty and long in the mouth, this will immediately remind you of the sea and all of its seafood riches.
Look for tangy citrus, lemon, lime, briny green olive, sea breeze and oregano accents and think of pairing this with raw oysters, shrimp cocktail with a squeeze of lemon or lime, mussels in garlic, oil and herbs, cold seafood salads, ceviches, gazpachos, salted fishes (cod/white anchovy/sardine), sheep's milk cheeses, green olives or simply on its own as an aperitif. The Greeks serve toasted bread with olive oil, sea salt and oregano on top which is an ideal accompaniment to this wine and perfect as you are waiting for your seafood dish or nibbling in between courses. If comparing this wine to something more familiar, I would say it reminds me of a cross between a fine Chablis and a Gruner.
We visited Moraitis Winery in June of 2010 and hiked around their organic vineyards in different locations on the island, then visited the winery for a tasting of all of their wines. Father Manolis and sons Theo & Savvas were our hosts, and Manolis' wife whipped up a light lunch for us after the tasting. She served a super smooth, delicious Taramosalata, fresh Parsley and Onion spread on toast topped with a kalamata olive, rustic sunflower seeded breadsticks and chunks of Graviera cheese: Greece's 'other' sheep's milk cheese. Graviera seems to be used in Greece as their table cheese, and the Feta cheese is used in Greece's most famous salad of tomatoes, feta, olives, onion and crusty bread.
Posted from an article about Greek wines on PunchDrink.com:
"Moraitis is one of the historic properties in Naoussa, on the island of Paros, farther north in the Cyclades. Their Sillogi combines assyrtiko with malagousia, a fragrant grape from the mainland, both grown in organic vineyards on Paros. If there's a bit less of the volcanic intensity found on Santorini, but a minty herbal side and slightly leesy richness give this both complexity and freshness. It's the sort of wine that telegraphs the success Greek island whites could have, if just a few more pinot grigio drinkers made the switch."
wa

91

Wine Advocate

ws

91

Wine Spectator

st

91

International Wine Cellar