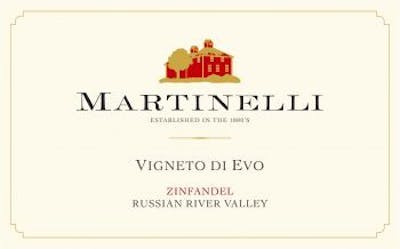 SKU: 11676
Martinelli Vigneto di Evo Zinfandel 2019
---
---
The Martinelli Family has been farming their estate vineyards for over 135 years, continuing their rich history and making them 6th generation wine growers and farmers. The Martinelli children have always been raised working in the fields from a young age. Leno Martinelli was making wine at 5 years old, and farming his own vineyards at the age of 12. Leno taught his son, Lee Sr., to make wine alongside him when Lee Sr was 5. This tradition continued with Lee Sr. having his children tying vines, suckering, and picking apples at ages as young as 6 years old. A strong work ethic was the byproduct to the stewardship of the land as a way of life, a gift to provide for your family and a privileged obligation to the next generation. Many decades later, Lee Sr. and Carolyn's four children are still happily involved in the farming and winery businesses on a daily basis.
Robert Parker says 'the venerable Martinelli winery is one of the iconic families and longtime growers in Sonoma.' Famous for their Jackass Vineyard, planted in the late 1800's, the Marinelli family is an icon of the Russian River Valley. Lee Martinelli, Sr. planted the Giuseppe and Luisa vineyard on a knoll above the winery, several miles east of the family's famed Jackass Hill vineyard.
All of Martinelli's Zinfandel vineyards originate from the heritage Zinfandel vineyards that belonged to Giuseppe & Luisa Martinelli in the 1880s. Their oldest Zinfandel vines are over 140 years old. These vineyards, inherited from their ancestors, are still producing grapes today. They have taken cuttings from these old, old Zinfandel vines to create several of our newer Zinfandel vineyards, because they know the tremendous flavor and mouth feel these heritage vines produce. Its like no other.
Martinelli Zinfandel Vigneto di Evo is a barrel-blend from select Martinelli single vineyard zinfandel sites: Jackass, Vellutini, Lolita and Giuseppe & Luisa. The estate's Vellutini, Lolita and Giuseppe & Luisa vineyards were planted with cuttings from their 135 year-old Jackass Zinfandel clones. These vineyards are grown in cool regions of the Russian River Valley, allowing the deeper, dark flavors to develop in the grapes versus black pepper, characteristic of warmer vineyard sites. It is named for Evo Martinelli, who was raised on Martinelli Road. He was Lee Sr.'s first cousin, the son of Fred Martinelli. Evo gave Lee Sr. one of his first jobs out of the vineyard and instilled the importance of going to college in him as a young man.
Look for effusive aromas of wild ripe strawberry, saddle leather and star anise. The palate has wonderfully balanced acidity with smooth integrated tannins and delicious layers of black cherry, wild plum, dark chocolate and roasted walnut. Luscious, juicy flavors of blackberry and baking spices linger through the finish.
wa

91

Wine Advocate

ws

91

Wine Spectator

st

91

International Wine Cellar