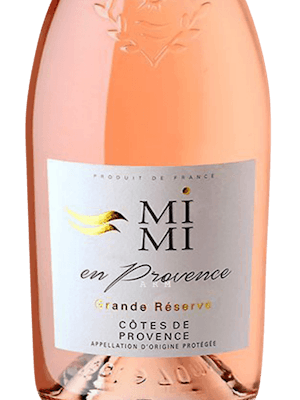 SKU: 07347
Mi Mi en Provence Grande Réserve Côtes de Provence Rosé 2022
---
---
'MIMI en Provence' was created by the well-known Provence wine company, Vins Bréban in December 2014. MIMI is an affectionate Provençal nickname and a common term of endearment. It is also the diminutive of the female name Mireille, a popular name in Provence. AND, it is the name our kids call our mom, their grandmother, she is their MiMi. Mimi Grande Reserve Rosé is a blend of Grenache, Cinsault and Syrah and has lovely aromas of red berries, rose petals and white peaches. Food friendly, crisp and dry, this Provence Rosé pairs so well with fish, seafood, poultry, salads, cheeses and charcuterie.
Mimi is from a third generation wine company, run by Jean-Jacques Bréban, Chairman and CEO of the House of "Vins Bréban", who inherited his passion for fine wines from his father, Raymond Bréban. In 1952, the company founder, Raymond Bréban discovered the wines of Provence and decided to devote his life to the production and promotion of quality wines in Provence. By 1960, he had established key partnerships with two wineries and built lasting relationships with consumers and winemakers that endure to this day. Jean-Jacques took over to run the business in 1968.
Created in 1977, the Côtes de Provence appellation is the largest in Provence. Its geographical area includes 85 municipalities of the departments of Var, Bouches-du-Rhone and Alpes-Maritimes. Spread over 20,000 hectares, the vineyards of the Côtes de Provence is subject to a Mediterranean climate typical of Provence. The sunny climate, dry and windy weather fosters particularly natural viticulture. According to the ancient Provencal technique of winemaking, each varietal must be vinified separately, thereafter to be blended. This practice provides a perfect balance between acidity, alcohol and tannins. The wines of appellation Côtes de Provence are produced mainly from Grenache, Cinsault, Carignan and Syrah.
Please note: this wine is enclosed with a glass cap.
wa

91

Wine Advocate

ws

91

Wine Spectator

st

91

International Wine Cellar