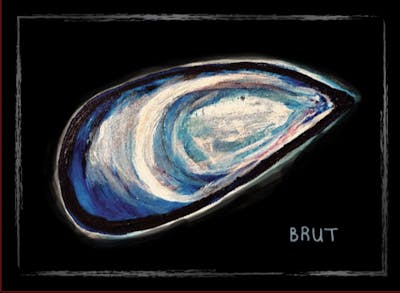 SKU: 07296
Ripe Life Wines Moules Blanc de Blancs Brut
---
---
This positively delicious dry American sparkling wine is made by Mary McAuley with a refined French sensibility and excellent food pairing compatibility. Established in 2013, Ripe Life Wines is dedicated to providing the highest quality wine to consumers at an affordable price point. Mary launched the brand with Clambake, made from high quality grapes sourced from Mendocino and Lodi, with two varietals—Unoaked Chardonnay and Limited Edition Rosé. In addition to these two acid-driven and refreshing wines, she now crafts this 'champagne' style sparkler.
'Moules' Blanc de Blancs Brut sparkling is made of 100% certified sustainable Chardonnay fruit from Lodi Valley, California. The fruit is picked slightly underripe for a bone dry citrusy palate with a crisp yet smooth mouthfeel. Produced in the champagne method, a touch of lemon brioche shines through a wonderful combination of lemon verbena, honeysuckle, green apples and white nectarines. Bright and clean and the ultimate way to whet the palate, "Moules" sparkling wine is the consummate pairing for raw bar, moules frites, or simple bites at apertivo hour.
The idea for Ripe Life Wines was born when the founder, Mary McAuley, attended an annual clambake she had with a group of friends. After being disappointed in the wine that was selected and recognizing that it's hard to find good wine at the Jersey Shore, she set off to make her own wine she could serve at the clambake for next year. According to McAuley, the process of opening a winery was not an easy one. After attending the Institute for Culinary Education and the French Culinary Institute then proceeding to earn her sommelier certification, it inspired her to go down the road into wine production. Despite not having the personal assurance that creating her own wine would work, she still had a goal in mind and wanted to pull through.
She became a co-owner of a co-op winery in California. These unique wineries have access to a network of grape growers as well as providing world-class equipment, winemaking assistance, and labor, but at an affordable price for a small producer because the cost is split between several different co-owners. McAuley strongly emphasizes that her wines are designated as "single vineyard" wines—meaning that they come from one specific vineyard and it isn't a blend. This allows McAuley to really get to know the nuances of the vineyard which elevates the winemaking. What makes The Clambake different is that there are little variations in them. Big wine distributors believe that consumers want the utmost consistency in their wines causing many suppliers to blend different things to make their wines taste the same again and again even if it's not the best. Clambake is handled much differently as McAuley believes that consistency is not what agriculture is, which is a huge factor when making wine. "I don't tell the grapes what to do, they tell me what to do," said McAuley.
As a single vineyard winery, they pay attention to every detail when producing their wine—who farms it, what the soil type is, the sustainability level of the wine, and how hard the wine is pressed. They take time with the decisions they make and don't cut any corners so their consumers can really taste the quality and difference of their wine apart from others. The mission of Ripe Life Winery is to tell a story of a specific place—giving Clambake its name. When McAuley had her annual clambake with her friends, it was all about celebrating the local bounty and tasting the "terroir." Terroir is the French term for "sense of place." She wanted to accomplish this same concept through her wine by stating on each label where it comes from. She said, "You should know where your wine is from and relish in the nuances."
We became a fan of Clambake wines (and of Mary!), back in 2015, and we sold about 20 cases of the Chardonnay that first summer. Today, the wines are better than ever, we are so excited about the new releases, especially this Moules Brut. Moules, which means Mussels in French, is the PERFECT wine for serving with seafood. This is utterly dry, precise and minerally, and honestly, the best California sparkling wine we have tasted in many years. Usually they lack the acid to be a true high quality sparkler. Notes of white flowers, lemon zest, sea salt, pear, tangerine and white plum abound. Don't miss this!
wa

91

Wine Advocate

ws

91

Wine Spectator

st

91

International Wine Cellar