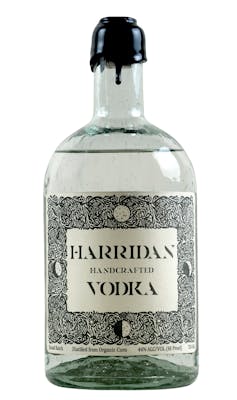 SKU: 07238
Harridan Vodka Deluxe Martini Set
---
---
Harridan Vodka
Dry Vermouth
Olives
Cocktail shaker
Cocktail Picks
2 Glasses
The Harridan Deluxe Martini Kit includes: 1/ 750 ml Harridan Vodka, 1/750 ml Dolin Dry Vermouth, 1 jar Santa Barbara Martini Olives, 1 Silver Retro Cocktail Shaker, 1 set of Retro Cocktail picks and 2 Glasses. Harridan is crafted by quality-driven artisans for high quality cocktails, or for sipping on its own. Its texture is rich, supple and complex, and its flavor is both mild and distinctive.
Harridan is handcrafted in upstate New York with the attention to detail usually reserved for whiskey or tequila. Harridan's master distiller has thoughtfully crafted this unique recipe to give Harridan a distinct taste that stands out in a cocktail but is smooth enough to drink on the rocks. Harridan is triple distilled using only 100% certified organic local corn, grown by New York farmers down the street from the distillery.
Harridan sets a new standard for premium vodka. Its overproof strength — 88 proof to be exact — is an homage to the bossy, defiant women of the past that inspired the brand's namesake. Female-owned and thoughtfully crafted, Harridan is a new concept in the spirits industry. Most people believe all vodkas taste the same. Not this one. It was designed to be remembered, not lost in mixers. Some have called Harridan the best craft vodka yet, but owner Bridgette Taylor says she will settle for it becoming your favorite :)
After meeting and tasting with Harridan founder Bridgette Taylor we can honestly say this is the best vodka we have tasted in years. It is so pure, clean, and aromatic with a hint of spiciness- an easy choice for both a vodka and/or tequila lover- it is flat out delicious. Gluten-free, too.
As an added bonus, the bottles for Harridan are blown in Mexico from recycled glass, and no two bottles of Harridan are alike. Each is hand-dipped in their signature black wax and finished with a traditional letterpress label. No digital printing here. In designing Harridan, Bridgette also avoided any single-use plastics. Please re-use or recycle this bottle.
Harridan (n): Strict, bossy, or belligerent old woman. This premium, small-batch vodka is handcrafted and distilled in Ovid, New York from local, organic corn grown by fifth generation farmers. Bottled in glass bottles handblown from recycled glass and sealed with a signature black wax. At 88 proof, Harridan is not your traditional vodka - Cheers to the Spirit of Defiance! This vodka is both woman-owned and gluten-free. Bridgette Taylor is the founder of Harridan Vodka.
Harridan won a Silver medal at the 2021 San Francisco Wine & Spirits Competition.
wa

91

Wine Advocate

ws

91

Wine Spectator

st

91

International Wine Cellar