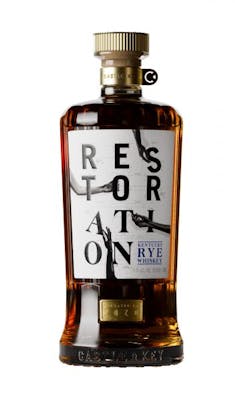 SKU: 07205
Castle & Key Restoration Rye Batch #1 2022
---
---
Batch #1 from 2022.
In 1887, Colonel Edmund Haynes Taylor Jr built a new kind of distillery destination in Millville, KY. Inspired by European architecture, the site featured a Castle, a classical Springhouse, and a sunken garden. What he built became the birthplace of bourbon tourism.
Prohibition forced the closing of the distillery in 1920. Over the next century, the property changed owners and occupants several times, eventually falling into ruin. In 2012, Will Arvin came across photographs of the abandoned distillery. He couldn't stop thinking about its legacy and potential. He decided to visit the property to see for himself. By 2014, it was decided to purchase the Old Taylor Distillery. First they had to rehab the property before they could start crafting spirits. Vodkas and Gins were first since they don't require aging. This allowed them to supplement operating costs while the bourbon aged. They also began specializing in RYE.
Over the years, the company has done numerous contract distilling runs for various brands and were known for their own rye. Restoration Rye Batch #1 is a special batch:
Aroma: Spearmint, graham cracker crust, dried cherries, orange peel, cedar, nutmeg and dill.
Taste: Caramel, baked apples, cinnamon, clove and lemon zest.
Finish: Mint, white pepper and honey.
Mashbill: 63% rye, 20% malted barley and 17% yellow corn.
Batch Size: 60 Barrels.

Age: 3 years.
113 Proof (56.5% ABV). 113 ABV.
wa

91

Wine Advocate

ws

91

Wine Spectator

st

91

International Wine Cellar