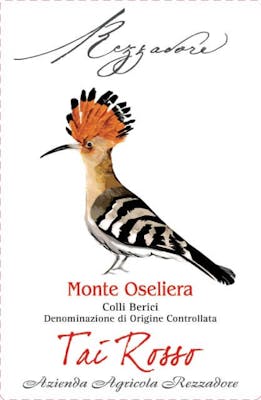 SKU: 07167
Rezzadore Tai Rosso 2019
---
---
About an hour west of Venice, in the Berici Hills of central Veneto, Giuseppe Rezzadore has been nurturing an epic terroir for high quality wine that has been in his family for 6 generations. His land is an ancient seabed of compacted fossils, shells, sand and mud. The high-draining soil plus a sunny climate make for ripe, mineral, complex wines. The picturesque estate offers sweeping views of the Po Valley, and it's where Giuseppe raises his family and makes his wines. Only his brother, Luca, helps him in the vineyards. Giuseppe does all of the winemaking himself. He good-naturedly jokes that the best time to finally catch up on (administrative) work is on vacation!
Farming with respect for nature is critical for Giuseppe, and he proudly took on the time-consuming and expensive process to obtain official certification. The vineyards are dry-farmed and biodiversity is encouraged. Birds like the hoopoe and the pheasant live on property and they are featured on the labels. A gorgeous, 200-year-old Celtis tree watches over the vines.
The wines are small production and made with minimal intervention. All grapes are hand-harvested. The local Tai Rosso--quite similar to Grenache--undergoes a 10-day maceration at 5°C before pressing, 12-day fermentation in stainless steel at 16°C, délestage and a 6-month rest. After bottling, the Tai Rosso is rested for an additional 3 months. Only 583 cases produced.
It's a vibrant, light-bodied red with body, texture and color that is great slightly chilled. On the nose, brilliant and distinct aromas of red fruit and tilled earth while the palate shines with red and black fruit and dried herbs. Slightly tart, silky and delicious. 12% ABV.
wa

91

Wine Advocate

ws

91

Wine Spectator

st

91

International Wine Cellar