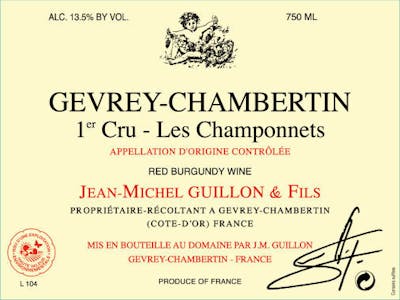 SKU: 07146
Domaine Jean-Michel Guillon Gevrey-Chambertin Champonnets 2019
---
---
Born in Paris, Jean-Michel Guillon arrived at Gevrey-Chambertin in 1980 with few connections or resources after he retired from aeronautics. Now the estate he runs with his son Alexis has holdings in more than 20 appellations, including Grand Cru sites like Mazis-Chambertin and Vougeot. He is reportedly the biggest buyer of new French oak in Burgundy after Domaine Romanée-Conti and the Hospices de Beaune. He has built up a Domaine of reputation from scratch with the help of his good friends and mentors like Rene Galland and Henri Jayer. As Allen Meadows commented, "Jean-Michel Guillon's wines retain a clear sense of style and grace and remain identifiably Pinot Noir."

Jean-Michel Guillon was also elected as Winemaker of the Year 2020 by the famous French wine guide book, Guide Hachette
Alexis and Jean-Michel have a reputation for using a level of new oak on their wines that many more traditional producers in Burgundy would think was ridiculous. They believe that due to their work in the vineyard to harvest perfectly ripe fruit, the wines should be aged in the best new French oak money can buy. They feel that the wines do not in fact smell and taste too oaky, rather you get wines that smell and taste expensive: silky, ripe, with that whiff of powdery vanilla that makes the wine's pedigree obvious. This a great Burgundy for newer collectors weaned on California wines, and traditionalists should give it a try as well to see the current style leading the pack.
"Jean-Michel Guillon described 2019 as "one that was hot and very dry yet somehow managed to give us wines of freshness and minerality that preserve underlying terroir distinctions. We picked from the 19th to the 27th of September and the good news is that the fruit could not have been any cleaner. The bad news is that yields were down about 40% compared to a normal vintage. What is interesting is that while both 2018 and 2019 were very warm vintages, 2019 is more homogenous and has better pHs as well. Stylistically, the 2019s remind me of the 2016s with perhaps just a bit more stuffing." As the scores and commentaries confirm, I was impressed with the quality. Guillon also noted that the 2019s would probably be bottled in February 2021 after a light filtration." Allen Meadow- Burghound
Guillon owns almost 1 hectare in this 1er Cru, famous for always doing well in warmer vintages because it is a Northern terroir. The premier cru vineyard of Champonnets is perched on the same hill as Grand Cru Ruchottes-Chambertin, with northeastern exposure. Jean-Michel farms this site more rigorously than his grower neighbors, making dozens of pruning, trimming, thinning, and de-leafing passes throughout the season to nurture his berries into very small yields for more concentration and perfect ripeness.
Subtle though not invisible wood is present on the ripe and fresh sauvage-inflected aromas of wild dark berries, anise and newly turned earth. There is excellent volume to the rich and well-muscled flavors that display abundant minerality on the youthfully austere and strikingly long finale. This bold effort should amply reward 15+ years of cellaring and will need at least a decade first. In a word, excellent. 92 -94
wa

91

Wine Advocate

ws

91

Wine Spectator

st

91

International Wine Cellar