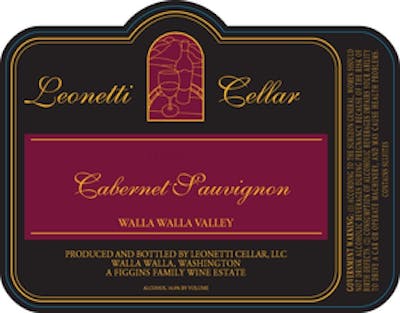 SKU: 07022
Leonetti Cellar Walla Walla Valley Cabernet Sauvignon 2019
---
---
Leonetti Cellar is hands down, the most prestigious estate in Walla Walla, Washington. Founded in 1977 by the Figgins family (whose ancestors were the Leonetti's who established Leonetti Farm in 1906 on the land that would become Leonetti Cellar's first vineyard), today in 2021, Leonetti Cellar is not resting on its laurels. Winemaker/owner Chris Figgins continues to work vigorously to produce the absolute best wines in the valley, working alongside his sister Amy Figgins, and a small crew of dedicated staff.
Back at the turn of the century, the Leonetti farm had an unknown little gem for its time — a south facing hillside of an acre and a half where Chris Figgins' father Gary planted a few hundred cuttings of Cabernet Sauvignon and Riesling. Then Gary Figgins proceeded to establish an entire industry for Walla Walla valley out of the back of a '67 Chevy pickup. Building off the inspiration he gleaned from his grandfather's bubbling fermentations in the dirt floor basement, the only logical thing to do to honor his family's roots would be to name the winery Leonetti Cellar. Chris Figgins continues this hopeful vision and tenacity of his great grandparents, grandparents and parents before him. This Sangiovese is in great honor of the history of the Leonetti and Figgins families.
Gary and Nancy Figgins worked with inspiration and passion to have a better and more prosperous life than their ancestors. Today, Chris and Amy consider themselves the lucky benefactors to see firsthand that hard work is the true key to success. Some think that second generation winemakers have it easy. Chris thinks it is much more difficult as he has assimilated his forefather's spirit of relentless improvement and the seeking of new opportunities. The Leonetti team works tirelessly to continue to improve on a defined "classic" that Chris' parents have created. The current generation seeks new and exciting opportunities to continue the longevity of Leonetti to many generations to come.
Cabernet has always been and continues to be the standard bearer at Leonetti Cellar, and that of the entire Walla Walla Valley. The Figgins family feels it is suited in Walla Walla perhaps even better than its native home of Bordeaux! That's an endorsement!! Made to age for 20 - 30 years in your cellar, Leonetti Cab is made from fruit from Seven Hills, Loess, Mill Creek Upland, Serra Pedace, Holy Roller and Leonetti Old Block vineyards. Aged 22 months in new French oak barrels and once-filled French oak barrels, this is a blend of 89% Cabernet Sauvignon, 8% Petit Verdot and 3% Cabernet Franc. 14.5% alcohol.
The classic 2019 Cabernet Sauvignon from this great estate checks in as 89% Cabernet Sauvignon, 8% Petit Verdot, and 3% Cabernet Franc. Its dense purple/plum color gives way to a gorgeous nose of blackcurrants, burning embers, new leather, graphite, and tobacco. Rich, full-bodied, and concentrated on the palate, it's one heck of a mouthful of Cabernet that brings classic Washington State structure and grip, beautiful overall balance, and a great finish. It's going to require 4-6 years, if not upward of a decade to hit maturity, and should evolve for 30 years or more. It's brilliant juice. Best After 2026.
wa

91

Wine Advocate

ws

91

Wine Spectator

st

91

International Wine Cellar