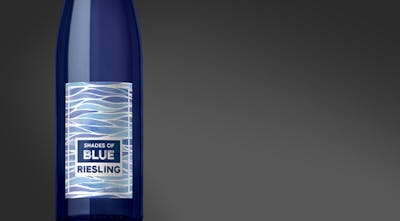 SKU: 06772
Shades Of Blue Riesling
---
---
Shades of Blue is made from Riesling grown in the Mosel Region of Germany, which is renowned for great Riesling. The Mosel is located in the far west of Germany, bordering Luxemburg and near France's famous wine growing region of Alsace. The vineyards in the Mosel are predominately located on steep slopes that overlook the Mosel River, which is lined with scenic, picturesque villages where viticulture is a major source of economic activity. Many of the vineyards in the Mosel are so steep that they require grapes to be harvested by hand. These vineyards are known for their distinctive soil, which is comprised primarily of slate and imparts minerality to the wines that is characteristic of the region. The Mosel is also the oldest wine region within Germany.
The climate in the Mosel is temperate, and Germany is among the most northerly wine-growing countries of the world. The Gulf Stream and proximity to the Mosel River temper the cool climate and allow grapes to slowly ripen, creating complex and interesting wines. This climate allows for a long growing season, with the Riesling harvest generally taking place into October. The long growing period ensures that the Riesling grapes will reach optimal ripeness and also allows for the preservation of fruity acidity, which is essential to balance the sweetness in a great Riesling.
After the Riesling grapes are ripened and ready for harvest, the grapes are pressed and the juice is slowly fermented in temperature controlled tanks, preserving the delicate fruit. Following fermentation the wines are kept in stainless steel tanks before bottling. Shades of Blue Riesling has fragrant aromas of tropical and stone fruits, in a semi-dry style that balances ripe fruit notes with a crisp citrus finish. Serve chilled.
wa

91

Wine Advocate

ws

91

Wine Spectator

st

91

International Wine Cellar