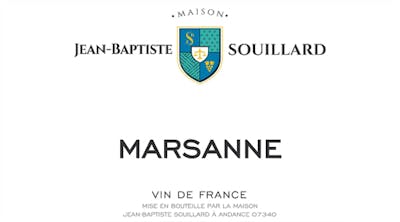 SKU: 06582
Jean Baptiste Souillard Marsanne 2019
---
---
New beautiful white staff pick from the legendary Becky Wasserman portfolio. Jean-Baptiste Souillard's winery is located in the hills above Andance, a quiet town on the right bank of the Rhône at a halfway point between Ampuis and Tain-l'Hermitage. Andance has the oldest suspension bridge (1827) still in use on the Rhône; its population (1,126) is aging; it was mentioned (alongside 100 other towns) in a poem by Louis Aragon about a young man leaving his village to join the resistance. Home base is a modest farmhouse that was purchased by Jean-Baptiste's great grandfather in 1900. Jean-Baptiste is little by little adapting his family's farm into a winery: converting one room into an office and another into a space to have tastings with clients. He has moved all of his barrels into the old stable (naturally chilly as it faces north) so that the aging of his wines takes place entirely in this cave so well-suited for the task. A stone marker dates the oldest part of the cellar to 1827, just like the bridge, but he thinks that parts of the house may go back to the 17th century.
Jean-Baptiste's wines are beautiful examples of the Northern Rhône. The whites hail from granite vineyards planted at high altitude. They are fresh and floral with coolness and minerality. Jean-Baptiste uses very little sulphur in his winemaking and is crafting beautifully structured, elegant whites, even though as he says, 'we're in a region that is not supposed to make great age-worthy whites, not like Burgundy or Alsace. Because we have less acidity, less support. But we have varieties that are a little tannic, a little bitter. So instead of acidifying, that's the support I want to look to: la voie des amers [the 'bitter' road]. Then, I really want to explode the whites with air, so I can rapidly precipitate what is unstable and keep only what is stable. So no sulfur in the beginning either. I want to oxidize the wines early. Then a classic élevage. These are ancient principles of my region.'
Size: 0.20 ha (0.49 ac)
Variety: Marsanne
Vine Age: Planted in the 1980s and 1990s
Terroir: Near Montpellier, north-facing, clay-limestone soils, early-ripening
Viticulture: Lutte raisonnée (sustainable)
Vinification: Indigenous yeast fermentation. Aged in older oak barrels, fined or filtered if necessary.
wa

91

Wine Advocate

ws

91

Wine Spectator

st

91

International Wine Cellar