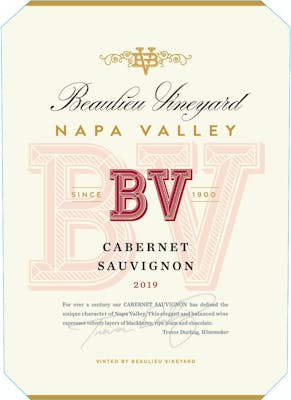 SKU: 11038
Beaulieu Vineyard Napa Cabernet Sauvignon 2019
---
$44.99
Save $12.00 (27%)
$32.99
---
#1 Wine Value of the Year 2022 Wine Spectator
Founded in 1900, Beaulieu Vineyard is one of our nation's most iconic wineries. BV is one of the longest continually operating wineries in Napa Valley. When founder Georges de Latour's wife, Fernande, first laid eyes on the land that would become BV's original Rutherford vineyard, she said "Quelle beau lieu!" or "What a beautiful place." Shortly thereafter, de Latour sold his thriving cream of tartar business, bought the four-acre ranch, and founded Beaulieu Vineyard with the vision of making Napa Valley wines that would rival those of his native France.
Georges and his wife expanded their land holdings over the next several decades, many of which are still part of the BV portfolio today. In 1903 they purchased 127 acres in Rutherford, which they named "BV Ranch No. 1." In 1910 another land purchase was made, known as "BV Ranch No. 2." De Latour began importing pest-resistant vines and offered European vitis vinifera varieties that were grown, grafted, and shipped from Europe to his fellow wine industry colleagues in California. He established his own nursery in Paris to produce these grafted vines.
Years before Prohibition began, de Latour had the foresight to obtain a warrant to produce altar wine for the Church and was thus positioned to become the first nationwide supplier of altar wine to Catholic churches across America. He established offices in New York as the Beaulieu Vineyard Distributing Company -- expressly for the altar wine trade. During the stormy debate leading up to the vote on the 18th amendment, advertisements for Beaulieu Vineyard altar wines appear in print for the first time. Prohibition forced most of the Napa Valley wine industry to shut down. As they shuttered, de Latour began purchasing tanks and barrels, which brought the winery's production capacity up to 65,000 gallons. During this time, he also began purchasing equipment, including a press and crusher, in order to outfit the renovated stable at Beaulieu for additional wine production. But de Latour wanted to grow more.
In 1923, Georges de Latour purchases the Fred Ewer Winery, a building that dates back to 1885. Its four original stone walls remain the core of today's Beaulieu Vineyard winery in Rutherford. This purchase increases Beaulieu's production dramatically. Altogether, de Latour's actions allowed Beaulieu Vineyard's business to thrive and increase fourfold in the 1920s, while other producers had to close their doors.
Then when André Tchelistcheff joined Beaulieu Vineyard in 1938, he tasted the de Latour family's private wine – what they called "Private Reserve" – from the 1936 vintage. This Cabernet Sauvignon-based wine was so distinctive that Tchelistcheff insisted it be bottled and sold as the winery's flagship offering. In 1940, Beaulieu Vineyard released the first vintage of Private Reserve and named it in Georges' honor. The resulting wine became the first release of Georges de Latour Private Reserve Cabernet Sauvignon, a wine that was destined to become Napa Valley's first "cult" Cabernet. In 70+ years since, Georges de Latour Private Reserve Cabernet Sauvignon has become the benchmark of Napa Valley Cabernet as one of the most collected American wines.
The wine we are offering today is the winery's classic Napa Valley Cabernet Sauvignon that has won many accolades over the years, including #1 Wine Value of the Year 2022 by Wine Spectator. The grapes come from Napa Valley's Rutherford, Calistoga and St. Helena appellations. The diverse soils and microclimates, as well as the various clones of Cabernet Sauvignon and cultivation techniques, contributed to this wine's complex flavor profile. The balance of the blend was grown both in estate vineyards and other quality vineyards of Napa Valley.
After the grapes were destemmed and crushed, the must was fermented in stainless steel tanks until dry. The skins were pressed and gently transferred the freshly fermented wine to 60-gallon oak barrels for malolactic fermentation and 18 months of aging in French, American, and European oak (30% new barrels). Prior to bottling, 5% Petite Sirah and 2% Cabernet Franc were blended with the Cabernet Sauvignon to add complexity and plushness to the wine's mid-palate. This also added plenty of finesse to the lingering finish and enhanced the flavor and aroma profile of this beautiful wine.
Beaulieu Vineyard Winemaker Trevor Durling, presides as only the fifth winemaker in the winery's 119-year history. A native Californian, Trevor was raised in Sonoma County, the heart of Northern California's wine country. With a love of agriculture, science and cuisine, Trevor pursued his studies at the University of California Davis in the Viticulture and Enology program. As winemaker at Beaulieu Vineyard, Trevor incorporates his passion for creating fine wines, while preserving the heritage and legacy of Beaulieu Vineyard.
Fresh, direct and focused, with red currant and cherry coulis notes that race through, dotted with savory, floral and tobacco accents. Judicious toast lets the fruit play out, and there's solid energy throughout. Drink now through 2030.
Redcurrant and tile with some clove. Dark stone, too. Medium-bodied with some fresh herbs and dried thyme. Medium, ripe tannins. Fresh, creamy finish. A blend of 93% cabernet sauvignon with Petite Sirah and Cabernet Franc. Drink or hold.
This well-balanced, moderately tannic wine offers black fruits, oak spice and a lightly gripping texture, all in good proportions. It's a pleasurable wine that shows the typical, attractive black cherries, black olives and hints of baking spices.
wa

91

Wine Advocate

ws

91

Wine Spectator

st

91

International Wine Cellar