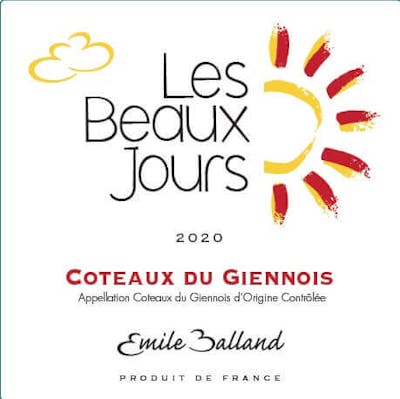 SKU: 04401
Emile Balland Beaux Jours Rosé 2022 2022
---
---
This charming and delicious dry rosé is from a small import company that is owned and run by women who focus on small batch wines made with sustainable and organic methods. Their Sancerre producer is a man named Emile Balland, who also makes Les Beaux Jours wines from Coteaux du Giennois, near Sancerre in the Loire Valley. Emile has a meticulous approach to his work, and respect for biodiversity and the organic life of the soil. Only natural treatments are used when necessary as Emile believes that healthy soil is crucial in the transference of terroir to the finished wines. The estate is comprised of just 9 total hectares; 1 in Sancerre and 8 in the Coteaux du Giennois. Emile's holdings in the Giennois lie within the villages of Bonny-sur-Loire and Beaulieu-sur-Loire where the vineyards rise gently from the banks of the Loire. From these calcareous soils, with sub-strata of silex and clay, come the wines Emile calls "Les Beaux Jours." The red is a juicy blend of pinot noir and gamay, and the white is entirely sauvignon. Seasonally, Emile also produces this rosé from the same blend as the rouge, which is 65% Pinot Noir and 35% Gamay from 50-60 year old vines in clay-limestone soils covered in caillottes (those special stones in the soils of Sancerre as well).
Having grown up in Bué, the son of wine growers, Emile naturally makes his own Sancerre from a single hectare of vines, 10% of which are in his home town, which he is very proud of. He calls his Sancerre "Croq Caillotte" in recognition of the flavor imparted by the white stones covering the vineyards, and which are the hallmark of Sancerre's terroir. The difficult 2016 vintage led Emile to begin sourcing fruit from friends in the Loire et Cher region. The project was such a success that Emile has continued to make the wines under this new 'Elementerre' label, as well as a delicious Sancerre sourced from two multi-generational, family-owned estates in the region.
Tangy, fresh and mouthwatering, this unique Loire rosé from a lesser known appellation has some weight to it, due to the addition of bolder Gamay to the refined Pinot Noir. The result is delicious with ruby grapefruit, plums and a deep floral core. We really like this! Can't wait to try it with food as well.
wa

91

Wine Advocate

ws

91

Wine Spectator

st

91

International Wine Cellar