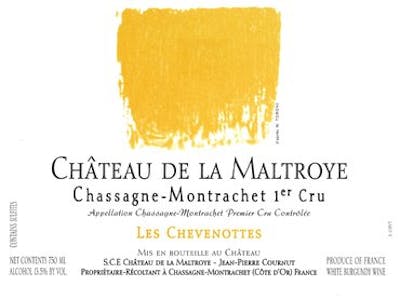 SKU: 03655
Chateau de la Maltroye Chassagne Montrachet Les Chenevottes 2019
---
---
Château de Maltroye is a wonderfully restored house built in the 18th century over the ruins of a 15th century building. The beautiful vaulted cellars underneath the current home date back to that older house. It is a very rare immaculately restored building in Burgundy, and a real compliment to the current owner, Jean-Pierre Cornut.
The Cornut – Maltroye connection derives from a previous owner named Picard, who was the grandfather of Jean-Pierre Cornut. Grandfather Picard was of Burgundian stock, coming from Nolay, but took his education in Paris. It was here that a senator friend alerted him to the opportunity to buy the château in 1940. 80% of the current estate's vineyards came with the purchase. In the first years it was not Jean-Pierre's, grandfather that made the wines, rather his grandfather's brother. Jean-Pierre's father, André, was an Air France Pilot yet also managed to work the estate for about 20 years until 1993 when bad health caused his son to take-over. Jean-Pierre who was working as an engineer for Dassault Aviation at the time, is now both owner and winemaker of the domaine. He uses green harvesting to limit yields.
The domaine today covers around 15 hectares – 2 of which are Santenay, the rest is Chassagne, 40% of the total is red. Starting with the vines in Chassagne, the domaine has enough for two barrels per year of Bâtard-Montrachet and produces 10 different premier crus: The Dents de Chien and La Romanée tend to be the more mineral wines, Jean-Pierre compares these to Perrières or Charlemagne. Grand Ruchottes and half a hectare of Maltroie Crêtes – which is never blended with the Clos de la Maltroye. Then there are two cuvées of Morgeots – one from vignes blanches and the other from 'feroutes' these are very rich rather than mineral and also never blended. Then there are the 1ers of Macharelle, Chevenottes and Baudine. The last whites from Chassagne are a villages, a bourgogne blanc and an aligoté.
The reds from Chassagne include 3 premiers; Clos de la Maltroye, Clos St.Jean and Boudriottes, the range being rounded out by a villages rouge and a bourgogne rouge. From Santenay the labels are all premier cru; La Comme red and white, and enough red Gravières for 3 barrels.
wa

91

Wine Advocate

ws

91

Wine Spectator

st

91

International Wine Cellar