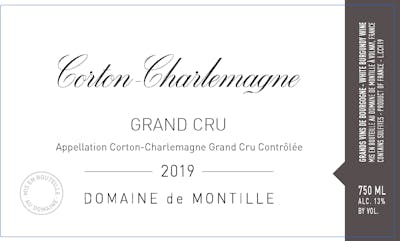 SKU: 06276
Domaine de Montille Corton Charlemagne 2019
---
---
De Montille's Corton-Charlemagne immediately distinguishes itself as a regal wine. The palate is powerful, profound, rich and very structured. Immediately racy, imperial. It is above all the length in the mouth that conveys the Grand Cru character. The finish is persistent, saline. This wine demands patience and will begin to shine after five to eight years from the vintage.
Purchased by the Montille family in 2004, this 1.02 hectares parcel was planted at that time to Pinot Noir under the appellation Corton "Pougets". Due to the soils of yellow marl with light brown clay and small gravel, De Montille made the decision in 2005 to graft over with Chardonnay in the higher part of the 35-year-old vineyard. The older portion was ripped out and replanted. Farmed with certified organic and practicing biodynamic methods, then fermented in 50% demi-muids, 50% barrels (25% max new oak). Regarding sulfur, whites have the following: 75-100 mg/l total SO2, 30-35 mg/l free SO2. Aged one year in demi-muids and barrels, then aged another 5 months in stainless steel. Only 4200 bottles produced.
Domaine de Montille is among Burgundy's most iconic estates, with a long and fabled history dating back to 1730's. While the de Montille name is certainly synonymous with the village of Volnay where the family house still sits, the original historic estate consisted of 25 hectares spread throughout the Côte d'Or, including parcels in the famed Grand Crus of Musigny and Bonnes Mares. Unfortunately, the family had to sell off many of these parcels around the phylloxera crisis in order to survive. In fact, by the time Hubert de Montille took over in 1947, the estate was down to a mere 2.5 HA, mostly in Volnay and some in Pommard. Nonetheless, Hubert was passionate about producing wine, and although he also practiced law concurrently for almost 50 years in Dijon, he helped to put the domaine on the map and in the top echelon of Burgundy estates.
When Hubert took over in the late 1940's, more than 90% of the wine in Burgundy was sold to négociants. But he was committed to estate-bottling, and pushed for the highest level of quality and purity. The de Montille style of the "Hubert era" was one of classic, structured wines that were built to age. Although he passed away in 2014 at the age of 84, many of the great wines he made during his career continued to drink magnificently, having aged out of their youthful firmness to blossom into the stuff of legends…gorgeous, mature, terroir-driven Burgundies.
Hubert's son, Etienne, joined the domaine in 1983 and immediately displayed the passion and dedication he had learned from his father. By 1995, he was officially co-managing alongside his father but in charge of most of the day-to-day decisions. Like Hubert, he also had another career during this time, working in investment banking until dedicating himself full time to the domaine in 2001. One of Etienne's first decisions was to convert the estate to organic farming, starting in 1995. Ten years later, in 2005, they began implementing biodynamic techniques as well, and soon thereafter sought official organic certification, which they earned in 2012. Today, they continue to farm their entire vineyard holdings biodynamically, and like many top vignerons in the region, are committed to the long-term health of their soils and vines. In Etienne's words, "biodynamic farming requires us to be aware of the life cycle of the plants and to embrace energies we cannot explain. We employ biodynamic techniques as a way to support and stimulate the vines, but organic farming is the foundation of what we do."
The 2019 Corton-Charlemagne Grand Cru, which comes from de Montille's south-facing vineyards, is relatively early-picked. It has a tightly wound nose that has difficulty following the Chevalier-Montrachet (even though that was reduced!) The palate is well balanced with a harmonious entry, slightly waxy in texture as a Corton-Charlemagne should be, although it feels quite linear and strict on the finish. 90-92
wa

91

Wine Advocate

ws

91

Wine Spectator

st

91

International Wine Cellar