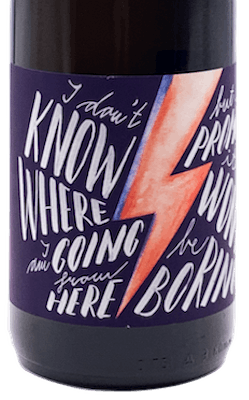 SKU: 06189
Gönc Starman Orange Wine 2020
---
---
Ask Alexa to play 'Space Oddity' by David Bowie, then crack open a bottle of this really cool 'orange' wine. (Quick side note : orange wines are not made from oranges, they are hyper-natural wines made with native yeasts and longer macerations leading to varying degrees of orange colors.) This delicious discovery is made by our new favorite 4th generation winemaker/grower, Peter Gönc, from Slovenia, who also happens to be a huge music fan. He created this half-Chard half-Riesling delight, promising to take wine lovers on an extraordinary trip. The Starman wine label was designed with a lighting bolt, paying David Bowie homage to the late rocker's alter ego Ziggy Stardust and his eponymous song. The grapes were handpicked under the morning stars, ensuring the journey to the bottom of this other-worldly, natural, unfiltered orange wine will be anything but boring, just as Bowie would have liked it.
Starman was born from soils consisting of sand and rich marl, aged 20-55 years. They are all low yielding and pruned to a single guyot at high elevations of 820-1300 feet. The farming is all natural and organic. Peter used funky native yeasts, macerated the wine with his own hands, and pressed the grapes in the moonlight. Aged on the lees for 15 months in French oak.
Toasted coconut, apple skins, brazil nuts and rosewater aromas lead to a citrusy (almost IPA-ish but in a good way!), juicy, mouthwatering palate with spiced pear, herbs, sour tangerine, pink grapefruit and tons of saline notes. Incredibly long and delicious on the finish that grips your cheeks with puckering acidity. We love the inner perfume on this, and its way of being gentle yet bold.
wa

91

Wine Advocate

ws

91

Wine Spectator

st

91

International Wine Cellar