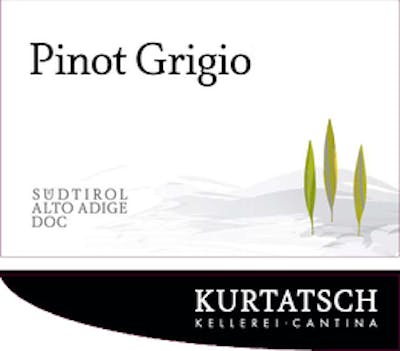 SKU: 06140
Kurtatsch Cortaccia Pinot Grigio 2021
---
---
Founded in 1900, Cantina Kurtatsch is a farmer-based cooperative in the town of Kurtatsch where out of 2000 inhabitants, 160 families are members/growers. Their collective goal of top quality, authentic wine is evident here, and the taste of Italian mountain sunshine is enthralling. Kurtatsch produces wines full of character, using sustainable methods, which best mirror their terroir – their varying origins – in the best possible way. Family-oriented and down-to-earth, the company strives every day to be the best they can be to express the region and honor its history.
Instead of growing their Pinot Grigio in low elevation vineyards and then machine harvesting the fruit, Kurtatsch Pinot Grigio consists only of grapes harvested by hand from low-yielding hillsides and steep slopes. This contributes substantially to the character and complexity of this wine. The climate here also influences the quality, as the large temperature differences between day and night in these vineyards leads to the magical, distinctive aromas of white peaches, fresh flowers and citrus fruits. In the mouth, the wine is juicy, textured and round. The creamy texture is complemented by fresh, animating acidity. This is mainly thanks to the higher-elevation Pinot Grigio vines. In all this is such an expressive wine with a mineral, salty finish that we tasted and loved.
A subtle, yet fruity and intense white with sliced-pear, green-apple and mineral aromas and flavors. It's medium-to full-bodied with dried mangoes and hints of tropical fruit.
"The 2019 Pinot Grigio lifts from the glass with a perfumed display of white flowers, dried apricot, and crushed stone. It excites the senses with a stimulating mix of zesty acids, minerals and ripe orchard fruits, as honied inner florals evolve. There's energy to burn here while also coming across as soothing with a gentle inner sweetness. Well done."
wa

91

Wine Advocate

ws

91

Wine Spectator

st

91

International Wine Cellar