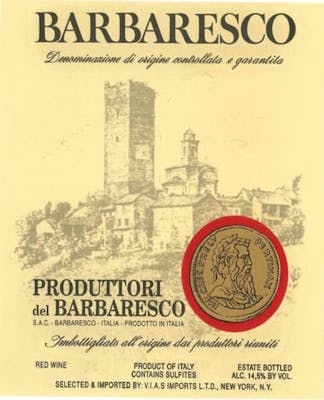 SKU: 05967
Produttori del Barbaresco Barbaresco 2018
---
---
Produttori del Barbaresco, founded in 1958, is the premier cooperative of Barbaresco wines. They now have 51 members and control more than 100 hectares (250 acres) of premium Nebbiolo vineyards in Barbaresco. Each family is in full control of its land, growing Nebbiolo grapes with centuries old skill and dedication. The vinery produces a Barbaresco D.O.C.G., a blend of Nebbiolo grapes harvested from different vineyards, and a simpler Nebbiolo Langhe suited for earlier consumption. These families make more money for their grapes when submitting a higher quality, so this ensures the cooperative receives the best of the best. In every vintage, Produttori del Barbaresco releases a Barbaresco from many different vineyards and maintains the style of the house, and this is that wine here. You can always rely on this bottling for an authentic Barbaresco experience.
In the very best vintages, in addition to this wine, the company also produces nine single-vineyard Barbarescos from nine classic premium sites within the Barbaresco village boundaries: Asili, Rabajà, Pora, Montestefano, Ovello, Pajè, Montefico, Muncagota, and Rio Sordo. These are the geographical names of sites where Nebbiolo grapes have always been cultivated. The name of the single-vineyards, the total number of bottles produced, and the name of the owners of the vineyards are marked on the labels.
The Produttori del Barbaresco, which vinifies only Nebbiolo grapes, produce around 550,000 bottles (45,000 cases) per year. In a good vintage they are divided among Barbaresco (50%), single vineyard Barbarescos (30%) and Nebbiolo Langhe (20%).
'Produttori del Barbaresco has been hitting it out of the ballpark these past years with a string of excellent vintages that resulted in the production of their entire line of Riservas. However, the Riservas were not made in 2018, so that vintage's fruit (was de-classified) and blended into (their main) Barbaresco.' WINE ADVOCATE That makes this 2018 an even more exceptional bottle than usual since it contains so much Riserva fruit.
Packaged in its distinctive brown paper label, the Produttori del Barbaresco 2018 Barbaresco is a beautifully lean and luminous expression of Nebbiolo, and that pretty color should remain intact over time. The aromas are bold and ripe with dark and purple fruit, but the bouquet shows interesting twists with earth, truffle, licorice and grilled herb. As the wine opens in the glass, you begin to notice heavier aromas of raisin and dried apricot. It wears a warm-vintage signature for sure, and for that reason, I would suggest a shorter drinking window for the 2018. With an ample 300,000 bottles made, you get a great value with this bottle.
The 2018 Barbaresco is an attractive, open-knit wine to drink now and over the next 10-15 years, maybe more. In 2018 the Produttori did not bottle their Riservas. Instead, all of the best lots of those grapes went into the straight Barbaresco bottling, another in a long string of successes from this historic house. Dark cherry, cedar, tobacco and spice fill out the layers. There is good depth and a good deal of tannin too, just not the complexity or nuance of the very best years.
Violet and red berry aromas mingle with dark spice, leather and camphor. The full-bodied palate offers cherry marinated in spirits, orange rind, black tea and a hint of menthol alongside solid tannins.
wa

91

Wine Advocate

ws

91

Wine Spectator

st

91

International Wine Cellar