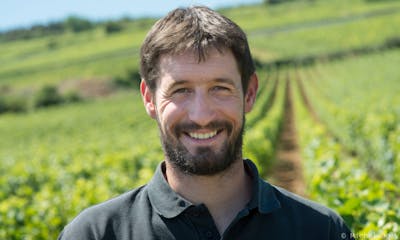 SKU: 05999
Domaine Sylvain Cathiard Bourgogne Aligote 2021
---
---
This tiny domaine was established by Sylvain Cathiard's grandfather (who worked for Domaine de la Romanee Conti and later for Domaine Lamarche) in the 1930's and was then further developed and maintained by Sylvain's father Andre from 1969 until 1985, when Sylvain himself became involved. The following year, Sylvain set up his own with parcels of vines rented from his father and other vignerons, before taking on his father's original vineyards. In 2006, he was joined by his son, Sebastian, and they have formed the estate of Sylvain Cathiard et Fils and since 2011 Sebastien has been running the domaine with Sylvain retiring.
Based in Vosne, his 5 hectares span Vosne-Romanée, Nuits-St-Georges and Chambolle-Musigny, with a very small parcel in Romanée-St-Vivant located directly below Romanee Conti where they are officially the smallest land-owner of this magnificent Grand cru. All vineyard work is carried out with meticulous attention to detail by Sebastien and his wife and a small dedicated team. All vineyard work is done on organic principles although Sebastien has not sought certification.
For winemaking Sebastien has a definite hands-off approach, preferring to do nothing rather than interfere with the natural development of the wines. He de-stems entirely, cold settles the juice for about 10 days and ferments the wines for between 22 and 30 days on skins. The new wines are matured for 18 months in oak of which about 90% is from tonellerie Remond and 10% from Francois Freres as follows: Village wines, roughly 1/3rd new oak and 2/3rds of 1 year old; 1er Crus, roughly 50% new oak and 50% 1 year old; Grand Cru, two new barrels and one one year old barrel. Since 2000 none of the wines are fined or filtered.
Sebastien Cathiard's wines are incredibly harmonious, softly textured and very fine. Since taking over in 2011 Sebastien has been listening carefully to those few who get the privilege to taste with him and he has gradually reduced the percentage of new oak used for aging. In a good vintage there are around 50 barrels produced in total across all appellations. His Vosne-Romanées in particular are now regarded among the best of the village. All wines offered are from fully mature vineyards that have yielded fruit with wonderful natural intensity and balance. These wines represent artisan wine-making at its very best. Quantities are extremely limited and are offered first to previous faithful buyers in fine wine shops and top restaurants.
This Aligoté white from Cathiard is an extremely rare wine that honestly, we have never seen before until this 2019 vintage. We received a few precious bottles.
wa

91

Wine Advocate

ws

91

Wine Spectator

st

91

International Wine Cellar