Bottle Shop Whiskey Basket $150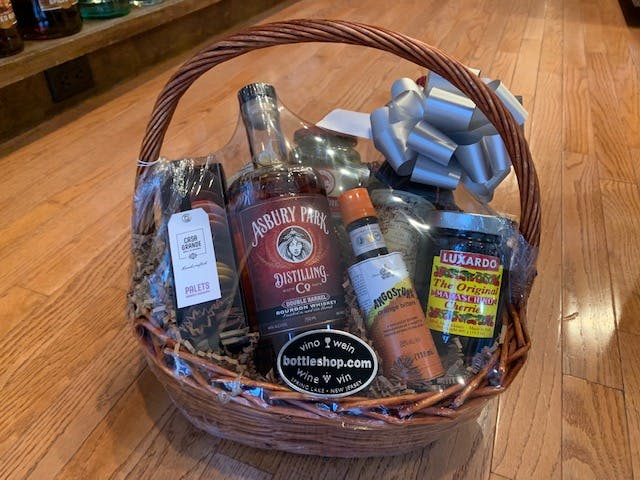 We went back to our roots this Whiskey lover's basket... nestled alongside a bottle of award-winning Bourbon Whiskey, distilled locally in Asbury Park, NJ, we included the best red Vermouth (Carpano Antica), the best Luxardo Cherries, the trending Orange Bitters, as well as delectable sweet & spicy Cornichons and thin, refined, handmade chocolates from Portugal, both curated for our Gourmet Food Market. A great gift for Manhattan and Old Fashioned cocktail drinkers or your favorite amateur Mixologist!
Little known fact : before our family bought the Spring Lake Bottle Shop, and became only its 3rd owner in its 75+ year history, we founded the Wine & Whiskey Basket in Deal, NJ in 1972. Mom and Dad were written up and photographed in the NY Times and the Asbury Park Press, for their innovations and passion for Wine & Gourmet foods, and gave us the work ethic and love for our products to keep it going!