Artibel Calabrian Pepperoncini Hot Pepper Paste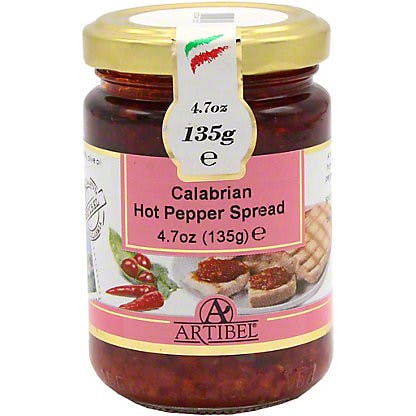 It was rather tricky to categorize this amazing product on our website, because we do not have a sub-category for 'pastes' or 'tapenades' or 'spreads' but this little jar is all of the above! Artibel's Calabrian Hot Pepper Spread can be used directly out of the jar on toast or bread, to finish cooked meats and vegetables, to add to your soup's mirepoix of onion, garlic and celery, or to put on top of both soft & hard cheeses. This product is a fine chef's and at-home cook's dream!
From the vastly untouched and organically cultivated land of Calabria in southern Italy come some of the most wonderful fruits and vegetables, like Figs, Fennel and Peperoncino. The peperoncino from Calabria is sweet, spicy and harmonious, not at all bitter nor too strong. The figs have an aroma of ripe sweetness and wild fennel blooms everywhere in the countryside. This product is an example of the best of Calabria in peperoncino!