Selezione Tartufi Acacia Truffle Honey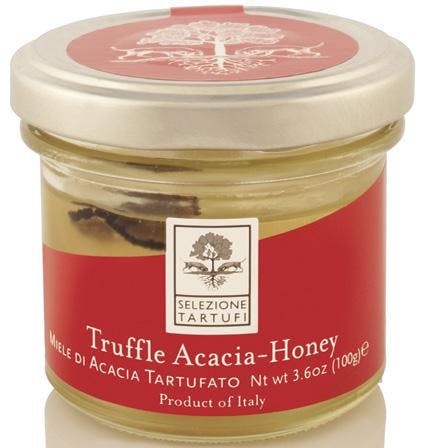 One of the best sellers in the Bottle Shop's 'Mousetrap' for over 10 years, this delightful truffle honey is high quality and super versatile for serving and using in cooking. Selezione Tartufi Acacia Truffle Honey is a harmonious blend of Black Truffles (Tuber Aestivum) and Sicilian Acacia honey. It is a clean and smooth truffle honey to serve on top of cheeses, especially Manchego, P'tit Basque (all sheep's milks), Langa La Tur (three milk), Fromage d'Affinois, Delice de Bourgogne and Goat Gouda. Or this truffle honey may be used to make a glaze for game birds, chicken and skirt steaks.
Truffles are grown underground and hunted only by the help of pigs and dogs in Italy. These rare and luxurious tubers are one of the most sought after ingredients by top chefs. They have been called the diamond of the kitchen. Known as one of the most desirable gourmet foods, nothing else comes close to the flavor of a truffle which is in the mushroom or funghi family.