Jeff's Garden Whole Castelvetrano Olives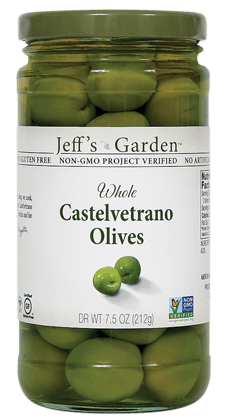 We love these olives! They are imported from family farms in Castelvetrano, Sicily, and maintain their firm texture, pits inside, they are so authentic. They are a favorite snack olive in Italy, yet very hard to find in the U.S. in this high quality. We tried for years to buy them from 'olive bars' but were never satisfied with the quality and freshness. These stay super fresh in their brine and they have a unique nutty, buttery flavor, mild brine and wonderful green color.
Jeff from Jeff's Garden is a real person. As the great-grandson of the founder, and the 4th generation, he grew up working in the family business and has done every job there is. He started out sweeping the floor and making local deliveries as a teen. During summers away from college he traveled to Europe and Central California with his father Ron to meet with family farmers and inspect crops. He is president of the company which is now located in the Napa Valley. Jeff leads with a passion for the business that was instilled in him at a very young age. He is committed to keeping the company in the family. Purchasing from family farmers and producing products that he is proud to serve to his family and friends. Jeff wants you to be able to pronounce every word in the ingredients list because that's the way it should be.