Il Marroneto Brunello di Montalcino 2015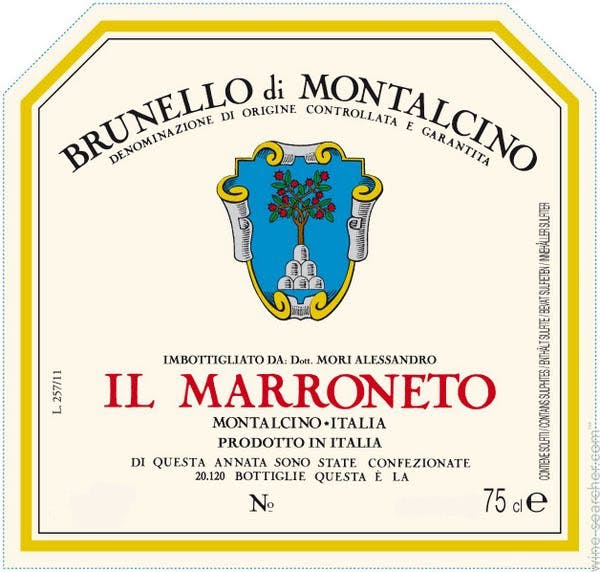 Owned by the Mori family since 1974, Il Marroneto is today run by Alessandro Mori, who makes the wine and does so with great love, care and passion; from picking to bottling he follows it day after day as if it was his child, and this can be understood in a moment, by watching him slowly tasting his Brunello or hearing him talking about it with great passion and enthusiasm. He only grows Sangiovese and works in purity. He does not intervene much on the vines, he does not use any type of herbicide or special products for the protection of the plant. Of his wine, he loves the ability it has to express the fruit aromas and flavors, to resist four years in wood – years that the specification of Brunello imposes – and after all this time to remain authentic, delicate and elegant.
Today, Il Marroneto, after more than 30 years is regarded as one of the ten historic companies in Montalcino (Siena), among the most famous, important and well known. All this has been possible thanks to the long-term commitment and passion that Mori has always devoted to his work. Il Marroneto the Brunello is a traditional wine, aged in large oak barrels from Allier and Slovenia, vinified according to the traditional systems of Montalcino; the result is a very elegant wine, rich in aromas, classic, suitable for meditation.
Wine AdvocateYou just can't beat the purity of the bouquet here: cherries, red licorice, blue flowers and currants. It's all stunning. Il Marroneto's 2015 Brunello di Montalcino opens to a light garnet color with faint ruby highlights. The wine never veers from its lanes, sticking to an absolutely traditional and fresh expression from the appellation. It offers a lean to medium-weight mouthfeel with radiant fruit flavors-think pure cherry fruit. Fruit is harvested from a five-hectare parcel at 300 meters above sea level with calcareous sand and Galestro soils. These conditions lead to the aromatic intensity of the wine, and that's the main takeaway in this classic vintage. There is a moment of softness that expands quickly over the palate. These results are graceful and gorgeous.