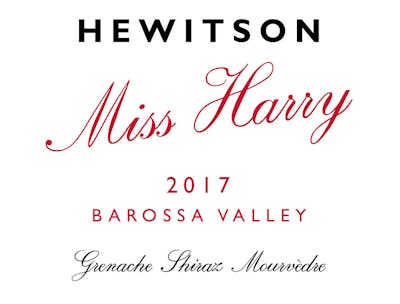 SKU: 05370
Hewitson Miss Harry 2021
---
---
Established in 1998, the Hewitson family winery is situated in the heart of the Barossa Valley on the historic Seppeltsfield Road and boasts some of the oldest vines in the world. Family-owned, locally loved and globally respected, Hewitson sources its fruit from historic, dry-grown vineyards in the Barossa Valley and also from single site vineyards in Eden Valley, McLaren Vale and the Adelaide Hills.
At Hewitson, they believe great wines are an expression of the soils they are grown in and the season they grow. Through knowledge and experience they strive for balance, structure, concentration, power and breeding. Proudly, through solar energy, water recycling and encouraging natural biodiversity, Hewitson brings these wines to your table environmentally sustainable. These wines are also known for using minimal sulphur in the winemaking.
"One of the most valuable things I learned is that the best wines in the world come from those optimal conditions where the grapes ripen just before the season closes," comments Dean Hewitson. "The Old Garden grows in two metres of sand over limestone leaving the bunches dry and healthy. Mourvèdre is an extremely late ripening variety and these conditions allow harvesting at the end of the season with perfect maturity. Geologists have confirmed that the Old Garden sits on what was the bottom of an ancient lake, once part of the Para River. The secret to the vines' longevity is their extremely deep roots going down 10 metres into the ground. The roots of these vines are so deep that even on the hottest day, while every other vine in the Barossa Valley has shut down, The Old Garden's leaves are bright and perky, tracking the sun as if each leaf is a radar," he adds. "This depth of root system helps provide a wonderful evenness in the wine, year after year." - Dean Hewitson
Dean Hewitson was born in 1965 in the early days of the red and white table wine booms in Australia. As a consequence in the early 70s he was planting vines and harvesting grapes in the small vineyard his parents with friends commenced, while collecting wine labels in a scrap book. It was an inconspicuous beginning to a life in wine. Dean completed his Wine Making Degree at Australia's Roseworthy Agricultural College in 1986. He then spent a decade working in one of Australia's leading wineries from 1987 to 1997. During this time Dean travelled in France, working vintages 1988 and 1989 and experiencing regions including Bordeaux, Burgundy, Champagne, Beaujolais, and the Rhone. Dean then spent two years from 1990 to 1992 in California at UC Davis, completing his Masters in Food Science (Enology) and at the same time immersed himself tasting in the vineyards of Santa Barbara, Napa Valley, Sonoma Valley, Monterey, Oregon and Washington State, including vintaging 1991 in Willamette Valley. In 1995 Dean lived and worked making wine in Provence for 3 months with his wife Lou while raising their young family.
Miss Harry is the nickname of Harriet Hewitson, and is a Rhone-style blend from vineyards dating back to 1800s. The 2017 Miss Harry is made of 57% Grenache, 23% Shiraz, and 20% Mourvedre from very old, historical bush-vines which are dry-grown at an altitude of 210 meters in ancient oxidised ferrous (terra rossa), limestone, sand and gravel soils. The vines are 100-140 years old yielding a very low 6.0 tonnes per hectare. Vinified with 34% whole bunch and aged 12 months seasoned French oak barriques.
Vinfied with 45% whole bunches and minimal SO2, using solar energy and water recycling. A very attractive light to medium-bodied palate with spices coming from all directions, the fruit flavours red, purple and black, the tannin load minimal. It's soft, but not weak or thin, just ready to drink without further ageing.
A delicious blend of grenache, shiraz and mourvedre that delivers a bold and rich finish with soft tannins and a flavorful finish. Drink now or hold.
wa

91

Wine Advocate

ws

91

Wine Spectator

st

91

International Wine Cellar