Domaine Hudelot-Baillet Chambolle Musigny Les Cras 2016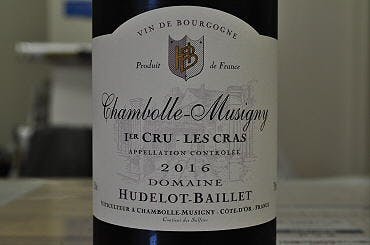 Domaine Hudelot-Baillet is a true Chambolle-Musigny producer with cellars in the town as well as holdings entirely within the appellation. The domaine was created in 1981 by Joël Hudelot (inherited largely from his father Paul) and his wife Chantal Baillet. Joël retired in 2004 and passed along the reins to his son-in-law Dominique Le Guen, who had been working with him at the domaine since 1998. The viticultural philosophy is basically organic though the domaine is not technically certified. There are no insecticides used and sexual confusion is employed instead to combat problematic bugs. The harvest is performed manually with sorting work done in the vineyards and again at the cuverie if necessary. The fruit is 100% destemmed, and the new oak program averages 30% for the villages wines, 40% for the 1ers and 50% for the Bonnes Mares. The wines are given 12 to 18 months of élevage before being bottled, generally without fining or filtration. Hudelot describes his intended style as one of finesse, succinctly explaining that "all of my appellations are in Chambolle and finesse is what we do best."
This Premier Cru is made from vines planted in 1987, from a .37 ha holding that produced yields of only 17 hl/ha. This superstar vineyard is known from illustrious domaines such as Georges Roumier and Méo-Camuzet. Acquiring this beautiful and very well-priced Les Cras is a real coup. There is so much ripeness, roundness and charm in this smooth, fleshy, silky wine with 3-7 years of aging depending upon the vintage.
Wine AdvocateThe 2016 Chambolle-Musigny 1er Cru les Cras comprises just three barrels this year, half the normal harvest, with some vines behind the maison with foliage offering nary a bunch. It has a more floral nose than the Charmes, a little Vosne-like in style. The palate is medium-bodied with chalky tannin, fine energy, a little more structured and spicier than the Charmes with a grippy, effervescent finish. It deserves 5 or more years in bottle so that the tannins may soften, but there is great potential here.
BurghoundThis is aromatically comparatively similar to the Charmes if perhaps slightly higher-toned as the fruit comes more from the red side of the fruit spectrum. There is excellent intensity and verve to the more mineral-driven and tension-filled medium-bodied flavors that display excellent power and persistence. This is not an elegant wine but it's certainly serious and will require a minimum of 6 to 8 years of cellaring and reward 12 to 15. 90-92