Cavallotto Barolo Bricco Boschis 2016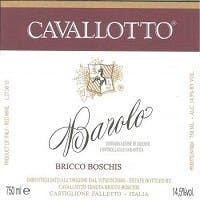 $89.99
Save $15.00 (16%)
$74.99
SKU 04712
750ml Bottle
The Cavallotto family claims sole ownership of the beautiful Bricco Boschis cru in the Castiglione Falletto district (also home to Azelia), where they have been growing Nebbiolo since 1929 and bottling their own wine since 1948. Alfio, Giuseppe and Laura Cavallotto successfully continue the family tradition started five generations ago, expertly transforming the grapes grown exclusively from their holdings into the most classic expressions of Castiglione Falletto. The family's richly structured wines place emphasis on elegance and longevity, attributable to excellent vineyards in the Bricco Boschis and Vignolo crus and traditional long maturation periods in large Slovenian-oak casks. Steadfast devotion to tradition combined with a high regard and respect for modern viticultural and winemaking techniques result in complex and elegant Baroli that are released for sale only when they have acquired perfect maturity.
The estate produces three Baroli: two riservas and a Bricco Boschis bottling. The Vignolo cru, sloping 60-80 meters lower in altitude than the adjacent Bricco Boschis holding, shows a 'creamy' flesh. This wine here is the estate's selection of the finest vineyard within the Bricco Boschis cru which is called San Giuseppe; it is considered the epitome of Castiglione Falletto...a powerful, majestic wine of absolute authority whose sweetness comes with time.
Wine EnthusiastAromas of woodland berry, underbrush, hazelnut and camphor form the nose along with a whiff of rose petal on this captivating, delicious wine. The full-bodied structured palate is still young and primary but already shows raspberry compote, ripe Marasca cherry, star anise, tobacco and the barest hint of game. Tightly knit noble tannins and fresh acidity provide the firm frame and impart serious aging potential. Hold for even more complexity. Drink 2026-2056.
Wine AdvocateAll of these wines from Cavallotto deliver a very floral and perfumed subtext that gives lift and delicate buoyancy to the overall bouquet. This is the Castiglione Falletto magic that shows so well in this classic vintage. The 2016 Barolo Bricco Boschis offers dried cherry, sandalwood, bramble and forest floor. The wine reveals a slightly wild and untamed character that adds to its interest and personality. Overall, this is an elegant wine with a streamlined and elegant finish. The aromas are focused and bright. I can't wait to taste the Riserva expression from this site when it is released in three years' time.
VinousThe 2016 Barolo Bricco Boschis is fabulous. Rich and pliant, with lovely mid-palate depth, the Bricco Boschis is a terrific introduction to the house style. There is plenty of the density that is such a Cavallotto signature, but the 2016 is also much more classic in feel than this wine has been in some time. Succulent red cherry, plum, mint, sweet tobacco, licorice and pine add layers of nuance to this expressive and inviting Barolo from Cavallotto. Best of all, the 2016 is already easy to drink and enjoy. The 2016 saw 32-34 days on the skins, followed by three years in cask. For this wine, Cavallotto used smaller casks of 50HL and a bit more new oak to help make the wine accessible young.