Tenuta San Guido Le Difese 2016
js

92-93

v

91

we

91

was

91

ws

90

wa

90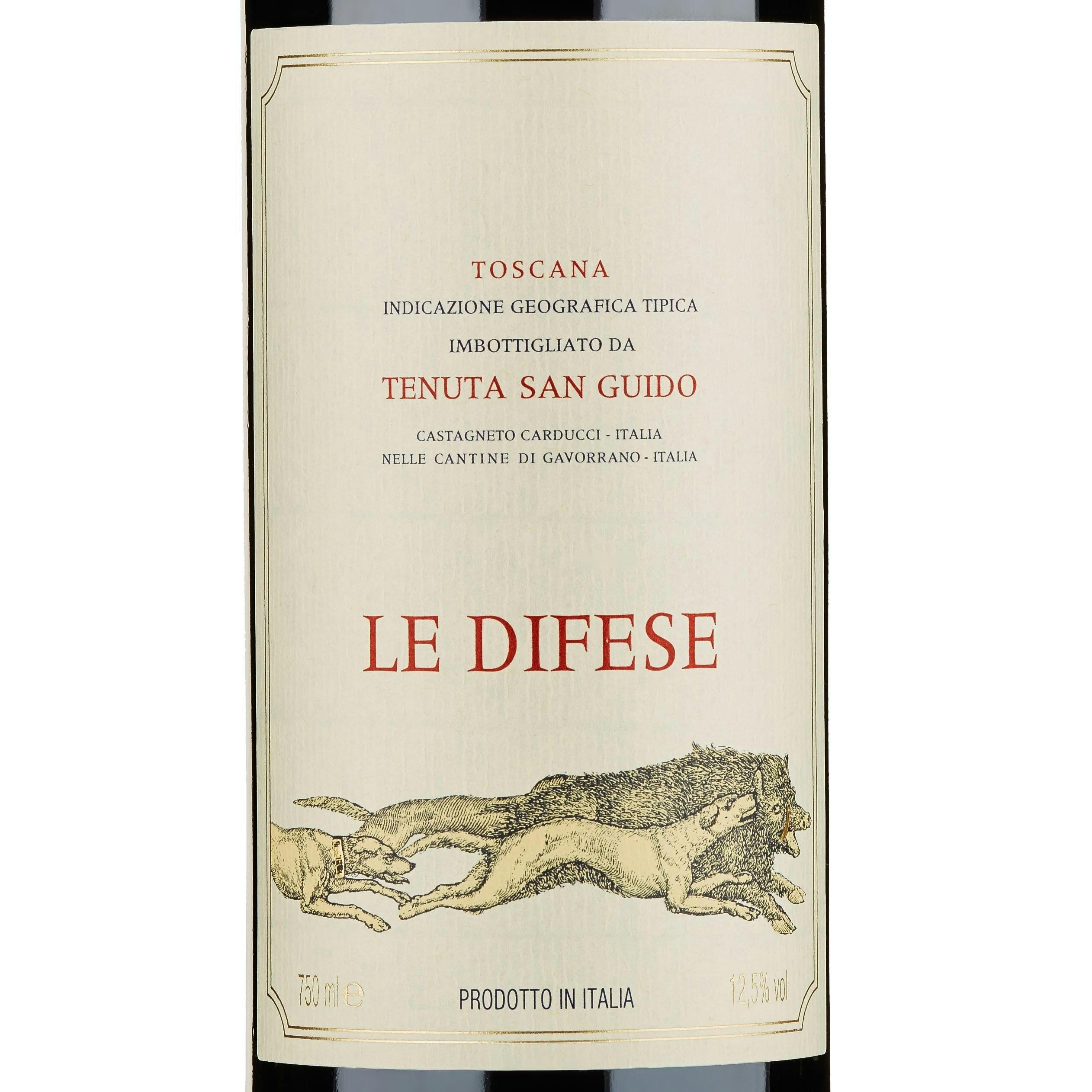 Unavailable
We're sorry, but this product is not currently available.
The legacy of Tenuta San Guido and Sassicaia begins in 1944, when Mario Incisa acquired a number of Cabernet Sauvignon and Cabernet Franc vine cuttings and planted them on a sloping hillside of the San Guido estate. Since the late 1960s, the Sassicaia name has represented a standard of quality that is without compromise, coming from the Tenuta San Guido estate. Part of the quality control efforts of the estate include producing a second and third wine in addition to the Sassicaia. The second label would be the Guidalberto, affectionately known as a 'baby' Sassicaia, with higher Merlot content, and meant for earlier term drinking. The third label, rarely seen in the USA up until now, is this wine, called Le Difese. Made from younger vines of the Sangiovese and Cabernet Sauvignon, Le Difese is made from 100% estate fruit, aged for 12 months in French and American oak barrels and represents a benchmark of quality at a reasonable price.
'Italy's most iconic wine estate - Tenuta San Guido - the ground zero for all fine wine made in the country today - has entered an exciting new chapter with a renewed sense of purpose. This change was not sparked by any single event, rather a confluence of events starting with a fortuitous string of great vintages. Driving his Jeep through his vineyards, with all those little Jack Russell heads straining through the open windows, Marchese Nicolo Incisa della Rocchetta has good reason to smile. Much of coastal Tuscany once served as a giant hunting reserve for Florentine nobility.' Wine Advocate
James SucklingVery aromatic and bright with strawberry, cherry and currant character. Hints of oranges. Full-bodied, linear and tight, showing ultra-fine tannins. Potential here.
VinousThe 2016 Le Difese is a gorgeous entry-level wine from Tenuta San Guido. A lovely sense of translucence runs through the black cherry, plum, lavender and mint flavors. I can't remember a Difese with this much sheer finesse and class.
Wine EnthusiastMade with 70% Cabernet Sauvignon and 30% Sangiovese, this offers enticing aromas of black-skinned berry, iris and cedar. The savory, balanced palate delivers red currant, dried black cherry, star anise and white pepper alongside fine-grained tannins. Drink through 2023.
Wine SpectatorA fresh, vibrant version, offering cherry, strawberry, spice and mineral flavors. Youthful, with assertive tannins, so decant or age short term. Cabernet Sauvignon and Sangiovese. Drink now through 2024. 26,000 cases made, 3,000 cases imported.
Wine AdvocateA blend of Cabernet Sauvignon and Sangiovese, the 2016 Le Difese shows a more evident touch of ripe fruit that you don't perceive in the Guidalberto, which makes me think it comes from the Sangiovese component that is only used in this wine. The overall effect of that ripeness is that it downplays the wine's inner complexity. But this entry-level red from Tenuta San Guido was never aiming for huge complexity to begin with. Dark cherry and cherry is followed by wild strawberry and tangy rose hip. This wine happily delivers on its promises of freshness and accessibility.