Chateau Lafite Rothschild Pauillac 2000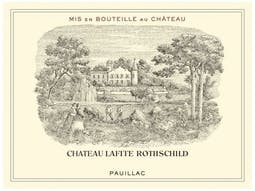 $2,995.00
Save $1,296.00 (43%)
$1,699.00
SKU 13430
750ml
The legendary, highly sought after Lafite Rothschild estate can trace its history back to medieval times, the etymological origin deriving from , one of the French words for mound. In 1868 the estate was sold to Baron James de Rothschild and it has remained within the banking family ever since. When Baron Eric de Rothschild took the reins in 1974, he involved himself in the daily running of the estate and began a period of vast improvements leading to the Château going from strength to strength over the last four decades. The vineyard is planted to 70% Cabernet Sauvignon, 25% Merlot, 3% Cabernet Franc and 2% Petit Verdot with a vine average of 45 years. Drink the 2000 from 2010-2050.
Wine AdvocateWell, well, well - Lafite Rothschild does it again. Ever since manager Charles Chevalier was transferred from his beloved Sauternes property of Rieussec (also owned by the Rothschilds) to Lafite in 1994, there has been a succession of profound wines to emerge from this noble estate. The 2000 Lafite Rothschild, a blend of 93.3% Cabernet Sauvignon and 6.7% Merlot (only 36% of the crop made the grade) has an opaque ruby/purple color, followed by an extraordinary aromatic expression of liquid minerals/stones interwoven with the tell-tale graphite notes, mulberry, black currants, caramel, and tobacco. In the mouth, it is remarkably light on its feet, but somehow seems to pack intense flavors into layer upon layer of fruit and richness that cascade over the palate. A compelling wine, with extraordinary precision, great intensity, and a seamlessness in spite of what are obviously elevated levels of tannin, this wine was provocatively open and beautiful when tasted in January and February, but I am sure it will soon close down. The finish lasted a whopping 72 seconds! This is utterly fascinating stuff. Anticipated maturity: 2011-2050.
Wine EnthusiastPerhaps of all the first growths in the totally un-classic 2000, this retains most of the classic Bordeaux. It is certainly almost black in color, while the new wood flavors are very present. But it shows an impressive restraint, leaving the power of the wine to be revealed over the years rather than immediately. This could well be the longest-lived of the Pauillac first growths.
Wine SpectatorThis is remarkably young, with a deep well of succulent black currant, fig and blackberry fruit notes that feel 10 years younger than most peers, carried by wave upon wave of velvety tannins. Despite the density and heft, there's glorious length and finesse too, with alluring black tea, smoldering charcoal and warm paving stone notes just starting to emerge. Awesome wine.--Blind 2000 Bordeaux retrospective (December 2015). Best from 2018 through 2043.
International Wine CellarFull medium ruby. Flamboyantly perfumed aromas of cassis, graphite and tobacco, lifted by a floral nuance and stony minerality. Very young and precise but not austere or forbidding. A remarkably rich, silky, seamless Lafite with superb vibrancy for the vintage. Tannins are noble and the aristocratic finishing flavors go on and on. I tasted this from a 375 ml. bottle, but from all reports this wine is equally approachable right now from a standard bottle. Has more sheer density than the beautiful 2001 and may well soon shut down in the bottle.