Luca Malbec 2017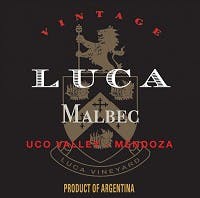 Laura Catena, daughter of Argentine wine pioneer Nicolás Catena, is fulfilling her vision of creating a new breed of Argentine wines: small quantities, artisan quality, and true to their individual terroirs. She starts with some of Argentina's best fruit from low-yield, high elevation vineyards. State-of-the-art winemaking and oak aging (primarily French) elevate the wines to a quality level demanded by true wine connoisseurs. The final varietal blends deliver power along with complexity and finesse. They are the ultimate expression of rigorous vineyard management, viticultural experimentation, strict irrigation controls, skilled winemaking, and a quest for quality at any cost.
Luca is named after Laura Catena's son. The family crest (the McDermott family) that appears in the label's background is that of Laura's husband, Dan. Laura is continually inspired by the synthesis of cultures in her own family, and this international inspiration infuses the style and quality of her wines. Luca is made from Malbec vineyards located in the Uco Valley: Altamira, La Consulta and Gualtallary. The s
oils is these premium high-elevation vineyards are very poor with l
imestone in Altamira and La Consulta.
All the vines are ungrafted and average 44 years in age. All work is done by hand including the harvest.
VinousBright ruby. Vibrant scents of dark berries, bitter chocolate and violet. Sweeter and a bit lusher than the Malbec Paraje Altamira even if it doesn't have quite that wine's underlying minerality, complexity or juicy lift. But the intense black fruit and bitter chocolate flavors are palate-saturating and satisfying. The pliant finish features substantial broad, lush tannins. (a blend of vineyards)