Antinori Badia a Passignano Chianti Classico Gran Selezione 2013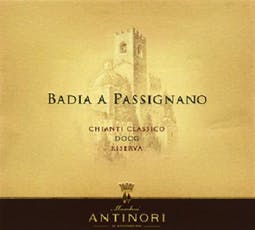 Unavailable
We're sorry, but this product is not currently available.
The Badia a Passignano Gran Selezione is produced exclusively from the finest grapes cultivated in the Chianti Classico property of the same name. The Badia a Passignano abbey, where the vineyards are located, is one of the loveliest fortified monasteries in the area and has been renowned for the quality of its wines ever since the year 1000 A.D. The Antinori family purchased the over 800 acres (325 hectares) of land around the abbey (which belongs to monks of the Vallombrosian order) in 1987 and uses as well the splendid cellars of the monastery.
The ancient Antinori family is one of the oldest and most respected wine families in the world. The Antinori clan has lived in Florence since the early 13th century when they moved there from Calenzano, a small town between Florence and Prato. The merchant family was registered with the Guild of Silk Weavers in 1285 and later with the Guild of Bankers, thanks also to the branches that opened in Bruges and Lyons, and the growing network of business in Europe. They were also wine producers and merchants, and it was this business that became prevalent over time: Giovanni di Piero Antinori registered with the Guild of Winemakers in 1385. Production and sales of wine became increasingly important for the family and by the 16th century they were known to various clients outside Italy. Pair this gorgeous Chianti Classico Gran Selezione with fresh pasta dishes, roasted meats, fine cheeses, olives and breads.
'Antinori seems to do everything well these days, from churning out millions of bottles of 'everydaywines all the way to turning out superb versions of their many flagship bottlings. This is another impressive set of new releases with a number of highlights. Over the years oenologist Renzo Cotarella has moved away from the super-late harvests of the late 1990s/early 2000s in favor of picking slightly earlier, a decision that has paid off handsomely, especially over the last few years.' Wine Advocate
In 2014, Chianti Classico approved the new level called Gran Selezione (Great Selection). It is the first and only region to have such a classification. With this new category, Chianti Classico DOCG now produces three kinds of wine:
Chianti Classico (the standard version, also called annata)
Chianti Classico Riserva, with extra aging and higher production requirements
Chianti Classico Gran Selezione, a designation for only the very best Chianti Classico wines, which, like some of the other top-tier wines, will be made only in good years
All three levels of Chianti Classico have the same rules for grape composition and are required to contain a minimum of 80% Sangiovese. The other 20% can include a number of red varieties such as Canaiolo Nero or Cabernet Sauvignon, or the wine can be 100% Sangiovese. White varieties, which were once a required element of the blend, are no longer allowed in Chianti Classico.
The higher designation Gran Selezione involves tighter restrictions on production, such as lower vineyard yields and higher grape ripeness. A significant twist is that for Gran Selezione all the fruit must be estate grown. In other words, the winery must own or lease the vineyards that are the source of the grapes and cannot buy additional fruit from other growers. The minimum alcohol level for Gran Selezione is higher at 13%, reflecting the requirement for riper grapes. The aging requirement is longer as well: Gran Selezione must be aged for at least two and a half years before it can be sold, compared to one year and two years for normale and riserva, respectively. There is no requirement for wood aging, although most producers do age their wines in barrels or casks.
James SucklingThis is very dense, showing the ripeness of the 2013. Chocolate, black truffles and bark. Black cherries galore, too. Full-bodied, round and dense tannins and a flavorful finish. Better in 2020 but already gorgeous.
DecanterMarchesi Antinori was founded by Giovanni di Piero Antinori in 1385. Today the company manages eight different estates in Tuscany, Orvieto and Franciacorta. The Badia a Passignano estate was bought by the Antinori family in 1987 and consists of 56ha of Sangiovese, Cabernet Sauvignon and Syrah vines. Andrea Briccarello: Dark and intense red forest fruit aromas. In the mouth the wine is very attractive with plenty of fresh vibrant fruits and a subtle layer of spices. Great tannins and spicy undertones. Susan Hulme MW: Dusty cherries on the nose lead to a smooth, medium-bodied palate with a lingering savoury finish. May show more definition and focus with time, but already a beautifully balanced wine. Andrew Jefford: Close-grained, creamy and spicy, with finely defined red fruits and a citrussy, almost cologne-like sheen. Dense and arresting palate: a bolt from the black. Thundercrack-like intensity and intrinsic drama.
Wine SpectatorAustere and still reticent, this intense red nonetheless has the hallmarks of a terrific Chianti Classico, saturated with black cherry, black currant, olive, cedar and tobacco flavors that stand up to the beefy tannins. The vibrant acidity keeps this fluid and long. Best from 2020 through 2035. 1,100 cases imported.