Joh. Jos. Prum Wehlener Sonnenuhr Riesling Kabinett 2018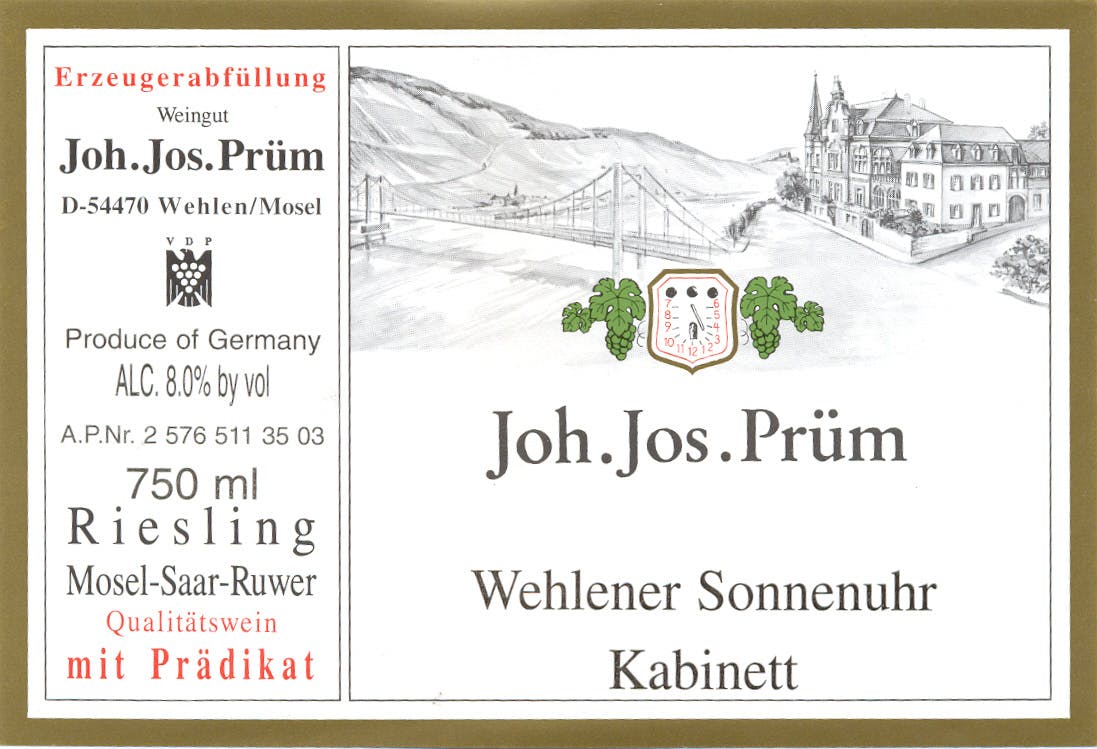 For centuries the Prüm family has lived and made wine in the village of Wehlen. Their ancestors were living in or near Wehlen as early as the year 1156. Today Manfred Prüm runs his family's historic estate impeccably. Some of the greatest, most long-lived wines of Germany are made at J.J. Prum. The 55 acre estate consists of about 90% ungrafted, old vines. Holdings are in the best parts of the top Middle-Mosel sites: Wehlener Sonnenuhr, Graacher Himmelreich, Zeltinger Sonnenuhr, Bernkasteler Lay and Bernkasteler Badstube. Plantings of the estate are 100% Riesling on steeply sloping Devon schist soil. Average annual production is about 15,000 cases. The harvest at J.J. Prüm is always extremely late. This allows the Riesling grapes in the cool Middle Mosel climate to be picked at ideal ripening conditions, the basis to produce wines of superb quality.
Wine AdvocateThe 2018 Wehlener Sonnenuhr Kabinett offers a deep and flinty, stony and herbal bouquet that needs some time to open up. Remarkably deep and complex, round and textured on the palate, this is a charming, mouth-filling and intense WSU with serious grip and length. Still far from being evolved, this is a richer, more complex Kabinett that will start to impress in 5-10 years. Stimulatingly salty on the finish. Tasted at the domain in September 2020.