Carpano Antica Formula Vermouth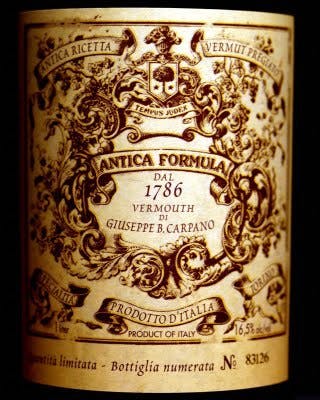 In 1786, Benedetto Carpano created Antica Formula in Italy, and began the production of a new category of alcoholic drinks: the Vermouth. Today, Carpano Antica Formula is considered to be a top sweet vermouth in the world, with its complex flavors of root beer, orange peel, vanilla, dried grapes and more. Create amazing cocktails like the best mixologists do, or serve simply on its own chilled with a twist of citrus before or after a meal. Carpano makes classics such as the Negroni or the Americano taste even better. Carpano Antica Formula is produced in small batches, bottled in hand crafted blown-glass bottles and topped by a cork. The label is a replica of the original label in 1786.
Wine EnthusiastRich, fruity and enticing, this sweet vermouth is warmed with notes of fig and dried cherries, and just faint hints of spiced gingerbread and bitter orange peel. Drinkable solo as an apéritif, or use it as a cocktail-mixing favorite.