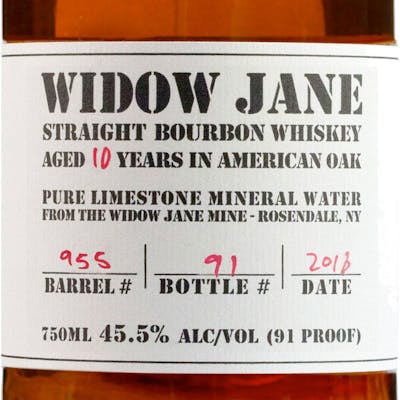 SKU: 02929
Widow Jane Bourbon Whiskey 10 year old
---
---
Aged for 10 years in American oak and made with pure limestone mineral water from the Widow Jane Mine in Rosendale, NY, Widow Jane is a small batch Bourbon for the most discerning of Bourbon-lovers. Each bottle is numbered by hand,. Look for aromas and flavors of butter, cream, toffee, cherry wood, olive oil charred orange and spices. Unfiltered for the deepest color and flavor. Widow Jane was named the #1 Bourbon by GQ magazine.
As great whiskey distillers throughout the world — from Kentucky to Scotland — have long known, it takes sweet water from tough rock to make great whiskey. And, that's what Widow Jane Whiskey is all about. The Widow 10 year whiskey is aged to perfection. It drinks like a 20 year bourbon with its deep cherry notes and light tannic finish.
Aroma: Butter, Cream, Toffee
Front: Cherry Wood, Olive Oil
Mid: Orange
Finish: Burnt Orange and Spice
After Glow: Light tannic fuzz
From chocolate maker Cacao Prieto comes an innovative Bourbon made with water from the Widow Jane mine in Rosendale, NY-an unusual limestone-rich source similar to those found in Kentucky. Aged for seven years in American oak, the spirit needs a little time to open up and coax forth vanilla and cola-like notes on the palate. Distinctly sweet on the palate, most of the flavor is on the finish, with a flourish of sasparilla, vanilla, cola and allspice.
wa

91

Wine Advocate

ws

91

Wine Spectator

st

91

International Wine Cellar