Paul Hobbs CrossBarn Chardonnay 2016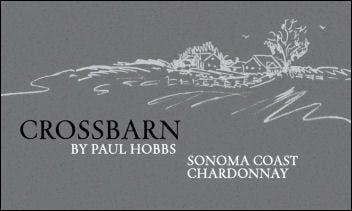 Unavailable
We're sorry, but this product is not currently available.
From California's true Sonoma Coast, this classic California Chardonnay has clean, concentrated flavors of apples, peaches, pineapple and spiced vanilla. American winemaker Paul Hobbs' Chardonnays are legendary. He produces CrossBarn Chardonnay using hand-harvested fruit from select, low-yield vineyards. This has structure and weight in balance with pure fruit, and is an exceptional alternative to the Hobbs limited releases.
Growing up on a working farm in upstate New York, Paul experienced first-hand the influence of terroir on the character of fruit, when his father had him taste apples of the same variety grown in different orchards several miles apart from one another. The diversity of flavors and textures made an impression on him and would later influence his approach to winemaking.
As a winemaker, Paul is highly regarded for his ability to identify exceptional vineyards, and for his pioneering spirit in working innovatively with new and historical sites and regions. His success has inspired a wealth of nicknames among the press, from quiet trendsetter to prospector to truffle-hunting dog. Hired by Robert Mondavi for his advanced understanding of oak aging, he went on to become winemaker for Opus One and Simi wineries, and then consultant to Peter Michael, Fisher, Lewis, Catena and others. He founded Paul Hobbs Winery in 1991 and Vina Cobos in 1999. He continues to be a leading consultant winemaker around the globe.