Ciacci Piccolomini d'Aragona Rosso di Montalcino 2018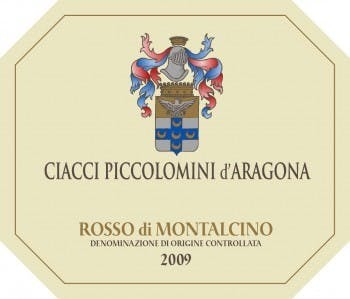 Ciacci Piccolmini is one of the most sought-after producers in Montalcino. This ancient estate has 35 hectares of superior holdings in the prized Castelnuovo dell'Abate zone, including the 'Pianrosso' vineyard (from which the best grapes are selected for the Brunello di Montalcino) and the 'Fonte' vineyard, which produces grapes for the Rosso di Montalcino. This Rosso is made of 100% Sangiovese Grosso, with bright and rich red fruit, earth, dried citrus zest and gentle spices. The vineyard is organically farmed and the wine is fermented in stainless steel and concrete vats before being transferred to large Slovenian oak where it rests for 12 months. Only 1000 cases are typically produced in each vintage.
Wine AdvocateThe Bianchini family has been working hard to develop a cohesive strategy for its Rosso program. The Ciacci Piccolomini d'Aragona 2018 Rosso di Montalcino pours from the bottle with a light garnet appearance. The wine remains compact and lean-bodied in terms of palate, and it imparts classic aromas of wild cherry, potting soil and blue flowers. Everything you get here is straight out of the Sangiovese playbook, and the wine remains accessible and easy-dinking throughout. You can't beat that low price. Some 68,000 bottles were released in January 2020.