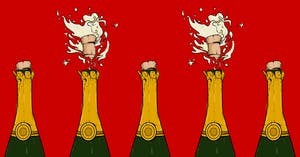 Happy New Year!
from our Family to Yours...
There is no question in everyone's minds that 2021 will be a better year than 2020, so let's all raise a glass of good Champagne and celebrate! Thank you to all of you for your loyalty in this difficult time, and we hope we helped make your family safer, as well as full of lovely libations this year :)
HOLIDAY WEEK HOURS
MONDAY 12/28 10 am - 7:00 pm
TUESDAY 12/29 10 am - 7:00 pm
WEDNESDAY 12/30 10 am - 7:00 pm
NEW YEARS EVE 10 am - 7:00 pm
CLOSED NEW YEARS DAY
SATURDAY 1/2 10 am - 7:00 pm
SUNDAY 1/3 12 pm - 6:00 pm
Cheers! the Murray family

RATED 90 WINE ENTHUSIAST : 'Red currant and strawberry come together in a very refreshing, rounded and appetizing fashion. The frothy, foaming mousse is exuberant and highlights these strawberry shortcake flavors brilliantly, while a totally dry palate makes sure that this stays classy. This is very satisfying, fun and fruit-driven, with a serious core and a bright, lemony finish.' The history of the Albrecht family as winegrowers can be traced back to 1425 with Romanu Albrecht, who lived in the town of Thann in the Haut-Rhin department of Alsace.
$19.99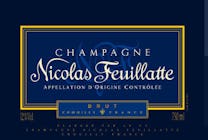 RATED 92 WINE SPECTATOR : 'Rich and creamy, showing the dried fruit, nut and spice notes of fruitcake, with lemon meringue, quince and honey flavors. Clean citrusy acidity integrates beautifully and provides an elegance to this refined Champagne.' Nicolas Feuillatte Brut NV is the #1 selling Champagne in France, made of 40% Pinot Noir, 40% Pinot Meunier and 20% Chardonnay.
$44.99
$39.99
RATED 92 WINE ADVOCATE : Staff Favorite 'Pol Roger wafts from the glass with an alluring bouquet of green apple, brioche, pastry cream and buttered toast. On the palate, it's medium to full-bodied, impressively layered and complete, with a crisp but fleshy core of fruit, a youthfully frothy mousse and bright acids, concluding with a delicately chalky finish. This is one of the very finest-as well as among the most consistent-non-vintage brut bottlings from any of the Grandes Marques.'
33% Pinot Meunier, 33% Pinot Noir and 33% Chardonnay
$49.99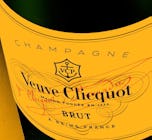 RATED 90 WINE SPECTATOR : 'This fresh and balanced Champagne is lightly toasty, with snappy acidity and a lively, creamy mousse carrying flavors of white cherry, pickled ginger and Marcona almond. Offers saline-laced minerality. '
$56.99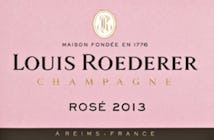 RATED 93 WINE ENTHUSIAST 92+ WINE ADVOCATE : 'The Roederer 2013 Rosé has a lovely light pink color and opens with highly delicate red fruit and flowery aromas. The wine is light, fresh, pure, very delicate and stimulatingly salty. Very energetic and at the same time caressing. The finish displays pink grapefruit, blood orange, and lime zest flavors. Highly stimulating in its purity, freshness and citrus character.' We love this!!! Great value in vintage champagne, too!
$99.99
$89.99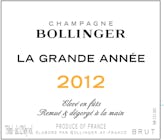 #10 Wine of the Year in Wine Spectator Top 100 of 2020 Rated 97 points :
'Founded in 1829, Bollinger is one of Champagne's few remaining grandes marques that's entirely family-owned. Cellar master Gilles Descôtes was elevated to head winemaker in 2013. He blended the 2012 La Grande Année, a racy version that doesn't hold back, deftly pairing an intense spine of acidity with an expressive range of flavors offered by the two-thirds Pinot Noir, one-third Chardonnay blend, sourced from premiers and grands crus vineyards. Following tradition, primary fermentation occurred in a mixture of 228- and 400-liter, neutral oak barrels. After blending and bottling for secondary fermentation, the 2012 aged in Bollinger's cellars for six years before disgorgement in 2019.' Wine Spectator
$175.00
$159.99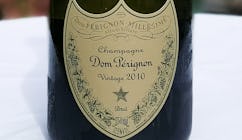 RATED 96 WINE SPECTATOR : 'A graceful Champagne, featuring fragrant notes of toasted brioche and grilled nut that are more subtle on the palate, with a rich underpinning layered with a pure chime of tangerine and accents of candied ginger, toasted saffron and lime blossom. This bundles a lot of concentrated flavor into a lithe frame, with the fine mousse caressing the palate through to the lasting finish. Drink now through 2035.' 2010 is one of the greatest vintages of Dom in the last 15 years....
$225.00
$199.00