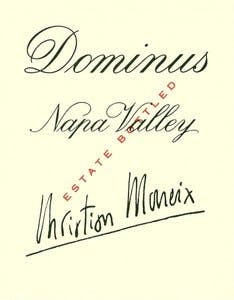 Epic Gift Cabernets for Dad : DOMINUS
Library Offer 2007-2010-2015-
2016-2019
including THREE 100 POINT wines!!! 
Is Dominus Estate the King of Napa Cabernet??? Many collectors and industry people would argue YES! They are not the most expensive, they are not the name that rolls off the tongue of average consumer. But if you are a serious wine guy and Cabernet lover, today's offer holds a supreme gift to give to dad, or for dad to give himself.
Starting with the double 98 pointed 2019 vintage, which is better than the low quantity 2020 vintage (that was the year with fires), Dominus crafts deeply flavored, rich, royal, built-to-last Napa Cabs with a French sensibility from one of the greatest winemakers of our lifetime : Christian Moueix of Château Pétrus fame. Next up, two 100 pointers: the 'flawless' 2015 and the 'prodigious' 2010. These are the two most successful vintages we ever sold from Bordeaux, an irony worth noting. Next, the 2007 at 16 years from the vintage was called 'the quintessential model of haute couture' by Robert Parker himself. This would be positively magnificent to drink on Father's Day.
We also have three magnums of the 100 point 2016. Lisa Perrotti-Brown said if 'I could give more than 100 for this one, I would.' And as a Bonus Wine, we are offering Opus One's Overture at $135/bottle. That will be the last time this price will ever be seen again.
Happy Father's Day to all the Dads out there, including our 2 dads here at the shop - both are really great ones:)
Cheers! the Murray family
---
RATED 98 WINE ADVOCATE : 'The 2019 Dominus is blend of 90% Cabernet Sauvignon, 6% Petit Verdot and 4% Cabernet Franc, aged in 40% new French oak. Impressively dark-hued in the glass, it yields scents of cherries and cassis on the nose—or is it black cherries and redcurrants? Subtle notes of mocha, pencil shavings and almost Graves-like earthiness wind through the concentrated, medium to full-bodied palate, giving it a sense of savory gravitas, while the finish is silky and long, leaving a lingering residue of soft tannins and mouthwatering freshness. Drink 2023 - 2040.'    
$399.00   
$319.00
Buy Now
---

RATED 100 WINE ADVOCATE : 'The 2015 Dominus is a flawless, perfect wine as well as a legend in the making. A blend of 86% Cabernet Sauvignon, 9% Petit Verdot and the rest Cabernet Franc, from dry-farmed vines and brought up in just 40% new French oak, its ruby/purple color is followed by an extraordinary bouquet of blackcurrants, crème de cassis, damp earth, smoke tobacco, and spring flowers. Reminding me of the 2015 Château Margaux with its incredible mix of elegance and power, this beauty hits the palate with full-bodied richness, stunning purity of fruit, building tannins, and awesome length. This sensational textured and voluptuous Dominus drink well today yet will evolve for 25-30+ years.'
$499.00   
$399.00
Buy Now
---

RATED 100 WINE ADVOCATE : 'Composed of 95% Cabernet Sauvignon and 5% Petit Verdot, the stunning, full-bodied 2010 Dominus boasts an exceptional perfume of hoisin sauce, licorice, underbrush, forest floor, plums, black currants and jammy cherries intertwined with hints of cedar, baking spices and oak. Full-bodied and voluptuously textured, the exquisite as well as prodigious 2010 can be drunk young, but it should age effortlessly for 20-25 years. Bravo!' 
$599.00   
$499.00
Buy Now
---

RATED 98 WINE ADVOCATE : 'The 2007 Dominus, the quintessential model of haute couture, is pure elegance exhibiting a seamless integration of wood, tannin, alcohol and acidity as well as a complex bouquet of cedar, new saddle leather, sweet kirsch, black currant and plum fruit and a notion of licorice. The 2007 Dominus should drink well for 25-30 years.' 'Easily the greatest Dominus in memory. Comes down on the drier, lower alcohol and less ripe side than many Cabs in its league, yet lacks for nothing in complexity and sheer deliciousness. Tantalizes with blackberry tart, cherry, carob bean and a cola-rhubarb richness that retreats behind rich tannins and an earthiness suggesting sweet blond tobacco and dried sage.' 97 WE
$599.00   
$425.00
Buy Now
---

RATED 100 WINE ADVOCATE : 'A blend of 84% Cabernet Sauvignon, 8% Petit Verdot and 8% Cabernet Franc aged in 40% new oak, the 2016 Proprietary Red Wine is deep purple-black in color, offering up subtle notions of potpourri, Indian spices, cigar box and iron ore over a core of crushed blackberries and black cherries with intermittent wafts of black and red currants, new leather and smoked meats. The palate is medium to full-bodied with a densely packed mid-palate and oodles of freshness framed by very ripe, finely grained tannins and laced with compelling earthy accents. Incredible vibrancy with tons of black and red fruit sparkle in the mid-palate leading to a provocative mineral element on the very long finish. If I could give more than 100 for this one, I would.'
$799.00   
$699.00
Buy Now
BONUS WINE FROM OPUS ONE!!!
---

This wine has become a huge success at the Bottle Shop. The quality has soared over the last several years. Since 1993, Overture has been crafted as part of Opus One's relentless pursuit of quality. It is the estate's second label where lots, barrels and younger vines are blended to maintain the 'grand cru' status of the first label. Overture is aged additional time in barrel from multiple vintages and aged in French oak. Made of Cabernet, Merlot, Petit Verdot, Cab Franc and Malbec just like the Opus.
$179.99   
$135.00
Buy Now