Chateau d'Esclans Whispering Angel 2019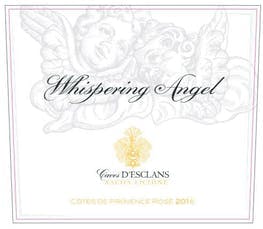 This dry Rose from Provence is made by Sacha Lichine, son of Alexis Lichine from Chateau Prieure Lichine of Bordeaux. He worked at this family's former property during the summers of his youth and fell in love with wine. We found pink grapefruit, mint, roses and spices in a fresh, zippy, easy-going style in this offering. The color is a lovely pale salmon and the wine is made of mostly Grenache, with small percentages of Cinsault and a white grape :: Rolle (aka Vermentino) and Rolle.
Whispering Angel was a great wine and food match with crabmeat and shrimp 'skinny' rolls followed by pan seared flounder sauteed in capers and lemon juice along with bok choy in fresh ginger and lemon olive oil. Whispering Angel is dry and easy-to-drink. We first discovered Whispering Angel years ago in Miami at the Fontainebleu where they were serving it poolside by-the-glass. This was long before the Whispering Angel - frenzy of popularity! We are so happy that people love dry Rose!!!
Wine EnthusiastThis top-selling rosé offers pepper and bright acidity that combine with red fruits to yield a harmonious whole. The wine is fruity, lightly textured and ready to drink.