Domaine Sylvain Cathiard Vosne Romanée Aux Malconsorts 2015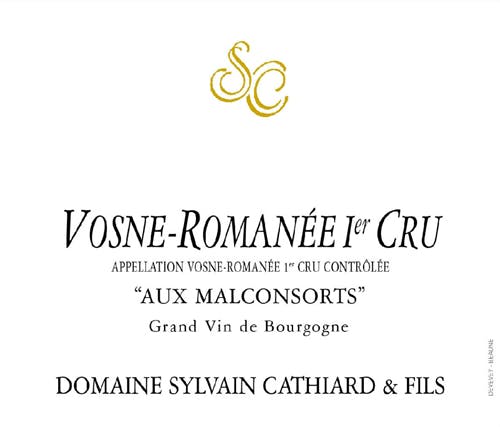 $1,799.00
Save $300.00 (16%)
$1,499.00
SKU 01848
750ml Bottle
This small domaine (13.75 acres) is run by winemaker Sebastien Cathiard, doing both the vineyard work and vinification, who worked with his father Sylvain Cathiard for years before taking the reigns. The original family domaine was established by Sylvain's grandfather in the 1930s and then maintained by Sylvain's father from 1969 until 1985, when Sylvain became involved. The following year, Sylvain set up his own domaine with parcels of vines rented from his father and other vignerons, before taking on his father's original vineyards. Based in Vosne, his vineyards span Vosne-Romanee, Nuits-St.-Georges and Chambolle-Musigny, and a tiny parcel in Romanee-St.-Vivant. All of the vineyard work is done meticulously by hand by the family, and Sylvain follows a hands-off, non-interventionist approach to winemaking. The grapes are 100% de-stemmed and the premier crus see 40-75% new oak. This Premier Cru Suchots is made from 30+ year old vines.
This wine is the domaine's most sought after wine, and so difficult to gets our hands on. Planted in 1972, the Cathiards' vines are planted on d eep red clay soil and they are farming with careful lutte raisonnée and experimenting with organic. The grapes are 100% de-stemmed, indigenous yeasts perform the fermentation, and the wine is aged for 18 months in oak barrels (75% new).
Wine AdvocateThe 2015 Vosne-Romanée 1er Cru Aux Malconsorts has just a little less new oak than the Les Suchots this year. The aromatics are more backward and recalcitrant than the Les Suchots and demanded more coaxing from the glass. There is a sense of depth to the fruit, almost an opacity that suggests the fruit will only gradually open up. It was difficult wrenching your nose away from the glass! The palate is beautifully balanced with succulent fleshy tannin, voluminous in the mouth with immense concentration counterbalanced by a keen line of acidity. Very persistent in the mouth, this will be immense once in bottle. Cellar for as long as you can.