Chappellet Mountain Cuvee 2015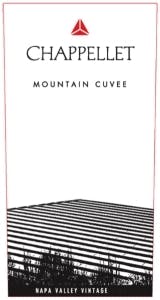 Unavailable
We're sorry, but this product is not currently available.
The Bottle Shop has been a long time follower of Chappellet wines from Napa Valley. Our dad met Cyril Chappellet's dad, Donn, decades ago and we have continued to carry the great wines from the Chappellet family who has been crafting fine wines since 1967. This is their Mountain Cuvee, a propietary blend of all five classic Bordeaux varieties: Cabernet Sauvignon, Merlot, Malbec, Petit Verdot and Cabernet Franc. Each component in the cuvée contributes nuances that complement each other. The result is a complex array of aromas and flavors that deliver pure pleasure in a glass. Made for more near-term enjoyment, this is the wine to choose when you're looking for vivid, mouthfilling fruit flavors.
The 2015 growing season delivered grapes of exceptional quality and low yields. With another warm, dry spring, the growing season got off to a fast start. Cold weather during flowering resulted in a significant amount of shatter, resulting in light clusters. Knowing that yields would be down, the Chappellet family tailored the farming to ensure that they brought out the very best from the small crop. This included methods designed to create homogenous ripening, as well as techniques that limited canopy growth, while providing ideal dappled sunlight on the ripening fruit. A lovely temperate summer allowed the grapes to ripen slowly, while an unhurried harvest ensured that everything was picked at the perfect stage of development, with pristine grapes showing beautiful color, density and depth. Serve with roasts, grilled meats, stews, chili with melted Cotswold and aged hard cheeses.
Bottle ShopLook for aromas of red plum, black cherry, spices, sweet herb, anise, clove and fine mocha. On the palate, the wine is round and medium-full-bodied with velvety texture and flavors of red and black fruits, baking spices, vanillan oak and roasted coffee. It's wonderful to taste an American blend made of all five Bordeaux varieties. This is quite good, and a great value for sure.