Shafer Red Shoulder Ranch Chardonnay 2018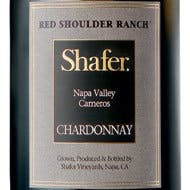 Shafer's single-vineyard Carneros-grown Chardonnay is produced from small-clustered clones of grapes selected for their low yields and distinctive flavors. Fermentation takes place in oak and stainless steel barrels using native yeasts. The wine matures on the lees for 14 months in 75% new French oak barrels (Allier and Vosge) and 25% in stainless steel barrels. Since it undergoes no malolactic fermentation this Chardonnay retains a lively natural acidity. The vineyard is named for its Red-shouldered Hawks and other birds of prey, who play an important role in Shafer's natural farming practices. Robert Parker says this is "…one of the best non-malolactic, barrel-fermented Chardonnays in California."
Wine EnthusiastThis robust, full-bodied white holds its weight and pedigree remarkably well, offering an intensely flavored, richly layered experience that seamlessly provides freshness along the way. Apple, cinnamon and nutmeg are complemented by toasted oak and lasting structure.