Chateau Cantenac-Brown BriO de Cantenac Brown 2015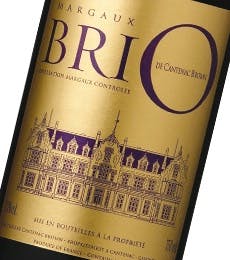 Classified as a Third Growth in 1855, Cantenac Brown is planted to 65% Cabernet Sauvignon, 30% Merlot and 5% Cabernet Franc on a 100 acre vineyard with complex gravel soils. The first wine of the estate is collected across the globe by savvy Bordeaux enthusiasts, and typically trades for $80-100 per bottle. Although a classic, historic estate, Cantenac Brown is also modern in its thinking. They created a new wine in 2001 named: BriO de Cantenac Brown, with a beautiful label, and high quality inside the bottle, made from 100% estate grown fruit. Made from the younger vines, Brio is an elegant, fruit-driven wine which may be consumed in its youth, or cellared for up to 7-10 years from the vintage.
The blend of Cabernet Sauvignon, Cabernet Franc and Merlot varies for each vintage but the Merlot percentage is usually higher in Brio than in Château Cantenac Brown. Traditionally aged for 12 months in 20%-25% new oak barrels, with racking every 3 months. Before the bottling, the wine is fined with egg whites.
On a historical note, John-Lewis Brown (1769-1851) acquired the estate in the village of Cantenac in the early 19th century and decided to build a Tudor style chateau reminiscent of his Scottish origins. The building is one of the most unusual in Médoc region and is surrounded by a remarkable English-style ground. Today the estate is owned by the Simon Halabi family, with José Sanfins as manager of Château Cantenac-Brown. He exposes the magnificent terroir, lavishes the greatest of care on the soil and the vines, with great respect for the environment. This meticulous attention to detail continues into the cellar, where everything possible is done to produce an exceptional wine.
VinousThe 2015 BriO de Cantenac Brown shows just how rich the second wines of Margaux are in this vintage. Super-ripe dark cherry, plum, violet, menthol and spice give the 2015 much of its succulent, inviting personality. The ripeness and richness of the vintage is very much front and center. 88-90