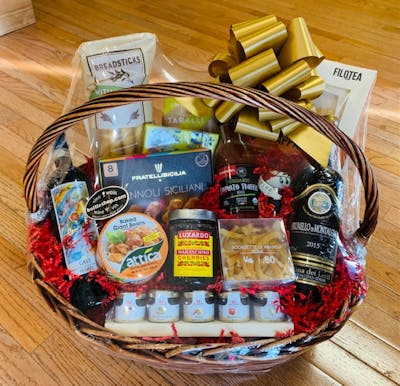 SKU: 00983
Italian Feast Gift Basket $250
---
---
*BASKETS MUST BE ORDERED 48 HOURS IN ADVANCE*
True to the spirit of the Italian dinner table, this gift basket offers the finest food & wine to create an Italian feast. With a bottle of classic Italian red and a clean & dry Italian white, imported pasta, specialty sauce, tasty tapenade or pesto, traditional breadsticks, Biscotti or Cookies, Holiday chocolates and more... This basket will delight the wine & food lover who receives it!

The more you spend, the more product that goes into your unique, hand crafted gift basket. Also, the more you spend, one of our wine experts will choose even more special wines specifically for your gift basket and the gourmet products that go into it. Our family has been making gourmet wine baskets since 1972. Mom & Dad 'handed down' this special craft, and you can be assured that our gift baskets are creative & unique --these are not mass produced baskets!

When we create your basket, we will nestle each product beautifully, shrink wrap each basket by hand and top it off with a large, festive bow - our baskets make a stunning presentation. Also, please indicate in the order notes if you would like fresh cheeses included. Otherwise the basket will be shipped as a non-perishable.
wa

91

Wine Advocate

ws

91

Wine Spectator

st

91

International Wine Cellar